Band of Horses to play Michigan Theater; tickets on sale Friday
Posted on Mon, Sep 24, 2012 : 2:16 p.m.
Indie rockers Band of Horses are scheduled to play a show at Ann Arbor's Michigan Theater on Dec. 3. Tickets go on sale Friday.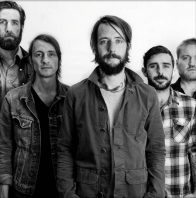 Tickets cost $32.50-$49.50, or $42.05-$59.55 including service charges. Tickets will be available at 10 a.m. Sept. 28
via Ticketmaster.com
and other Ticketmaster outlets.
Band of Horses arose from the Northwest / Sub Pop scene, finding a cult following with their first album, 2006's "Everything All The Time." The next year, "Cease to Begin" found both critical and chart success, while their third album, "Infinite Arms," was nominted for a Grammy Award for Best Alternative Music Album.
Their fourth album, "Mirage Rock," was produced by the famed Glyn Johns and released Sept. 18. It features the single "Knock Knock." For more information, see the Michigan Theater website.