event preview
Australia's boundary-bending Circa aims to shake up the circus tradition
Posted on Mon, Jul 2, 2012 : 5:51 a.m.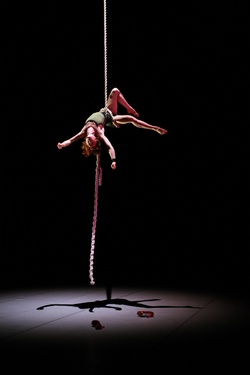 If you go see Circa, Friday and Saturday nights at Power Center as part of the Ann Arbor Summer Festival, don't expect the usual circus embellishments. There's no big top, no animals and no ringmaster.

Instead, look for a fusion of acrobatics, aerial stunts, extreme tumbling and contemporary dance as well as a barrage of sound, light and projection.

"Circa is an exquisite display that stretches the boundaries of what bodies can be," artistic director Yaron Lifschitz said.

Lifschitz created the Brisbane, Australia-based ensemble in 2006. He said his goal has been to strip away the layers that have built up around the circus tradition.

"The biggest shock when you see a Circa show is just how empty it is, how you have just these bodies in space," Lifschitz told the Australian newspaper The Age. "We fill the stage with a great amount of warmth and emotion."

The highly choreographed show, which includes just seven performers and the occasional piece of circus equipment, is powered by a soundtrack that ranges from improvised jazz and rock to Jacques Brel.
PREVIEW
Circa
Who: Australian troupe presented by the Ann Arbor Summer Festival.
What: Contemporary acrobatics and dance.
Where: Power Center, 121 Fletcher St.
When: 8 p.m. Friday and Saturday, July 6 and 7.
How much: $45-$10. Buy tickets by phone at 734-764-2538, or in person at the Michigan League Ticket Office, 911 N. University Ave., or online at www.annarborsummerfestival.org.
"What I wanted to do was go back to this raw connectedness and commitment to truth," Lifschitz explained. "We're not doing anything that's going to bull…. you. There's no one dressed in Lycra singing vocals and trying to make it sound meaningful. When you look at those seven performers you have a sense of having been on this human journey, knowing them as people - and that's a revelation.''
One of those performers is Darcy Grant, who compared what Circa is doing now to how contemporary dance influenced ballet in the 1980s.
"Circa is a company that specializes in doing new things with acrobatics … so what we try and do is pull apart traditional acrobatics and put them back together in strange and unusual orders so that it's unrecognizable," he said in an interview with a Sacramento, Calif., television station during a previous U.S. tour.
Robb Woulfe, Summer Festival director, said he caught the act in Montreal a few years back and came away impressed.
"I've been trying to bring Circa to our festival for a number of years and I'm thrilled we finally made it work," he said. "I love that the company strips away many of the production devices of traditional circus, and basically leaves an empty stage that focuses entirely on the human body. The show is breathtaking, beautiful, and super sexy."