Aunt Agatha's celebrating 20 years of selling mystery books with a library full of visiting authors
Posted on Tue, Oct 2, 2012 : 10:02 a.m.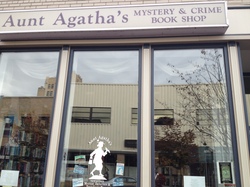 For 20 years, Aunt Agatha's has been supplying fans of detective fiction and true-crime stories with new and used books at its Fourth Avenue home. And it also regularly hosts the writers of those books for meet-the-author events.

As the store celebrates its landmark anniversary, it's going all-out on that front: Wednesday, Aunt Agatha's plans a special open house featuring more than a dozen authors, including some of the leading names in the genre and many with Michigan ties.

Robin and Jamie Agnew founded the store two decades ago. She was a watercolor artist and he worked at Borders at the time. They got the idea for Aunt Agatha's from a similar store in Minneapolis called Uncle Edgar's, Robin Agnew explained in an email; the Aunt Agatha's name is a tribute to her favorite author.

The special anniversary event, planned for 4-7 p.m. Wednesday, will include cake and other refreshments. The author appearances—including the chance to meet them and have books signed—will change each hour, on the following schedule:

4 p.m.

• Alyse Carlson - the pen name of Ann Arbor resident Hart Johnson, author of "The Azalea Assault."

• Loren D. Estleman - One of the deans of the private-eye genre, a resident of Whitmore Lake and creator of the Amos Walker series of Detroit-themed mysteries. His latest is "Burning Midnight."

• Sharon Fiffer - Chicago-area resident and author of "Killer Stuff."

• Sarah Zettel - Prize-winning Ypsilanti resident and University of Michigan alumnus who writes mysteries, science fiction and more, sometimes under the name C.L. Anderson.

5 p.m.

• Steve Hamilton - Detroit native and University of Michigan graduate (now living in New York) who has won awards for his Alex McKnight series of Upper Peninsula mysteries, staring with "A Cold Day in Paradise" and most recently including "Die a Stranger."

• William Kent Krueger - Creator of the Cork O'Connor series and winner of several awards.

• Libby Fischer Hellmann - Chicago author and creator of both the Ellie Foreman and Georgia Davis series.

• Steve Miller - Lansing journalist and author whose books include ""A Slaying in the Suburbs: The Tara Grant Murder."

6 p.m.

• Rick Blechta - Toronto novelist (and musician) whose latest book is "The Fallen One."

• Rhys Bowen - New York Times best-selling creator of the Molly Murphy and Royal Spyness mystery series.

• Vicki Delany - Canadian author of "Among the Departed" and other novels.

• D.E. Johnson - Author of a series of historic novels set in Detroit, the latest of which is "Detroit Breakdown."

• Sharan Newman - Medieval historian and author whose works include "Death Comes as Epiphany."

• Louise Penny - Award-winning Canadian author of the Chief Inspector Armand Gamache books.

• Julia Spencer-Fleming - Maine-based multiple award winner and creator of the Clare Fergusson books.

The anniversary open house is slated for 4-7 p.m. Wednesday, Oct. 3, at the store, 213 S. Fourth Ave. Admission is free. For more information, check out Aunt Agatha's website.