with video:

Ann Arbor's Third Coast Kings' classic, horn-driven funk sound a hit in Japan

Posted on Wed, Aug 29, 2012 : 5:13 a.m.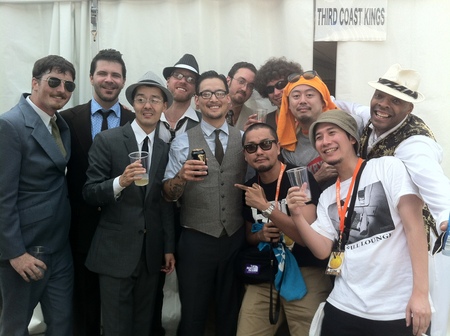 Members of local deep funk and soul band Third Coast Kings are still riding high after a late July appearance at Japan's annual Fuji Rock Festival.

"It was our biggest gig, our best effort ever," said founder/drummer James Keovongsak. "At our particular show the capacity was 15,000 and we were basically full and everyone was dancing for sure. We played on the second biggest stage there. It was just a sea of people."

He characterized the Fuji event as even bigger than the annual Texas-based South by Southwest music festival. "Its total capacity for three days is 120,000. It's huge. … It's just a massive festival," Keovongsak said.

Besides drummer Keovongsak, the horn-driven Third Coast Kings include Brian Einstein Lassiter on alto/baritone sax, Steve Barker on bass, Andy Filisko on guitar, Terry Kimura on trombone, Ryan Dolan on trumpet, Alec Cooper on tenor sax and Sean Ike, vocals.

Keovongsak said he founded the band in 2007 after placing an ad online at Craigslist. "Now we have eight members—we actually got a little bit carried away, but once you have a full horn section, that in itself could be its own little band. We put out our first CD this year and we've got a little momentum going."

James Brown's music from the late '60s to the early '70s is key to the Kings' sound, Keovongsak said, which is "really in the pocket, rhythm-based, tight horns and just having that James Brown attitude. The other thing too is we really focus on a lot of obscure funk. I'd say that's what we specialize in as far as researching the music and reformulating it into our own."

The Japanese appearance came after a promoter who was familiar with the band's work got in touch with Keovongsak.

"We have pretty good distribution over there … some promoter from Japan that puts together booking tours e-mailed me one day with an incredible offer to go over. Of course we couldn't refuse. … It was just a whole different world, surreal. We had people stopping us who actually recognized us. Obviously there's a language barrier, but they would make a picture motion or have us sign something.

"When we played on stage they welcomed us with a nice thunderous applause, just like you'd want it to be. Even with that language barrier, you could look down in the front row and see people mimicking or they would know the English lyrics to some our songs. It was pretty neat to see."

And yes, he said they were dancing in the aisles.

"Music is universal—if the music wants you to dance, then you sort of have to submit to it," Keovongsak said.

After a recent appearance at the Ypsilanti Heritage Festival, the band is taking a break from live performing to work on a new CD, Keovongsak said, which they hope to have ready to showcase in 2013 on a possible tour of Europe and a return to the Fuji event.

"Coming up next for us, we will probably release another 45 single, and our label is probably going to put some of our tracks on some compilations that they do. And right when I got off the plane I got a call back from Japan, they were talking about two weeks in Europe in 2013, so we're trying to put that together right now.

"Japan was incredible but it was just one show. If we can get two weeks in Europe that's going to be even better in my eyes," he added.