As Ann Arbor Art Fair gets under way, directors and artists looking for a rebound
Posted on Wed, Jul 18, 2012 : 5:56 a.m.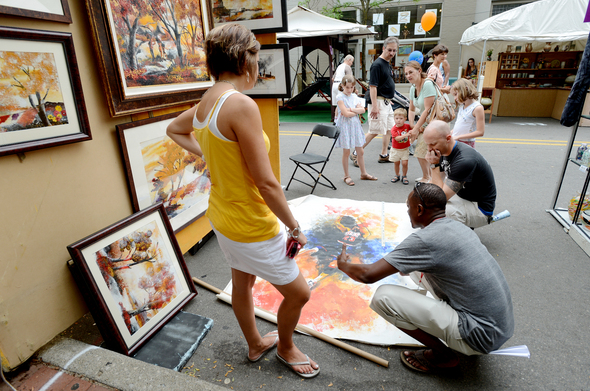 Melanie Maxwell I AnnArbor.com
Related stories: Full coverage of the Ann Arbor Art Fair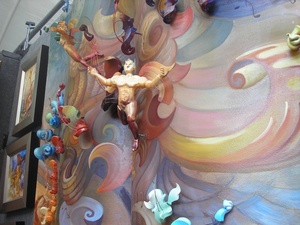 Jenn McKee | AnnArbor.com

Despite the clouds and thunderbolts that appear in the forecast for Wednesday and Thursday, the first two days of this year's Ann Arbor Art Fair, Ann Arbor Summer Art Fair director Debra "Max" Clayton has a purely sunny outlook.

"I think we'll have an incredible fair this year," said Clayton. "That's my prognostication. … Last year, because of the weather, we did see fewer people. Although the real traditional fairgoers were still out there buying, other people, I think, thought, 'Maybe we'll not go this year, since it's so hot.' So I think when people see that better weather is expected this year, they're going to come back, and the fair will be well attended. I think there's a lot of pent-up Art Fair desire out there to come see the work and support the artists. It should be a wonderful show on both sides of equation—for visitors and for artists."

Although the Art Fair experienced a brief shower Wednesday morning, artists generally didn't mind, since it was accompanied by a temperature that was considerably cooler than Tuesday, when the artists set up their booths.

"I'm glad I brought gloves (for set-up) this year, because the metal tentpoles get so hot, they actually burn your hands," said Scott Menaul, a State Street Area Art Fair digital artist from Clearwater, Florida. "(Wednesday's) wonderful so far. It's like 25 degrees cooler. We've got a little bit of rain to contend with, … but I think more people will be out if it's just a little rain now and then rather than 104 degrees."

The forecast indicates that temperatures likely won't rise above 90 degrees Wednesday through Saturday, which likely makes all fair artists happy, but maybe none more than those who make clothing.

Barbara Rubright, an Ann Arbor Street Art Fair artist from Shelby Township, has already exhibited her work this year in Florida and New York, among other places, but she said that past fairs never act as a predictor.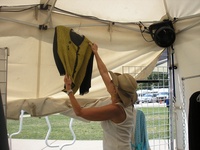 Jenn McKee | AnnArbor.com
Things change "fair to fair, and weather by weather," said Rubright, who designs and hand-weaves women's clothing, and has a booth on Ingalls Mall. "Weather plays a huge role for me. Although, at one of the hottest shows, I sold one of my hottest pieces of wool. … I was amazed."
Rubright has personal sales goals for each fair, and currently, she's keeping pace, thanks in part to using her client list to stay in contact with regular customers, who come "year after year. They plan to come this year, because they saw something similar last year, and they want it this year. … They'll come back. Although a lot of my business is orders. I can't possibly have everything in every size and every color."
Painter Chris Jackson, whose work is on display on South University, noted that traveling with his art to different parts of the country has been an eye-opening experience.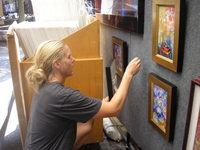 Jenn McKee | AnnArbor.com
"We come from Chicago, so I'm very aware of the economy in Michigan," said Jackson. "And I would say a few years ago, we definitely saw a downtrend. …
"I think there's a little bit more confidence now. Things seem to be picking up a little bit. When you travel to different parts of the country, it's really - the quote-unquote 'recession' has really hit different parts of the country differently. For an example, if you go down to Texas, it seems like they really haven't felt what most of America has been feeling, and that makes a little bit of a difference as far as sales go. But we try to position ourselves - we offer some prints of the original artwork, and that makes it very affordable. So people who still really enjoy coming to the art show are able to purchase some things rather than just feeling like, 'Oh, I can't afford anything this year.' We really try to make things very affordable for all people."
Menaul's experience with this year's art fairs has also been encouraging. "They're doing better this year, for sure, over last year," he said. "And we've also gotten better at selling, too. So we're doing pretty well."
While eleventh hour artist cancellations may, on first blush, sound like a bad thing, State Street Area Art Fair director Kathy Krick said that in at least one instance, an artist canceled because she'd sold out of all her work and had nothing left.
"She was quite happy, obviously, and hopes to come next year," said Krick.
Krick's fair has about 30 new-to-Ann-Arbor artists this year, and the promising forecast has the director's spirits up. "We've had two lousy years in terms of weather," she said. "When attendance is up, everyone has a better fair overall."
Clayton, meanwhile, said that reports from her fair's artists have been mixed. "Since 2008, with the change in the economy, it's tough out there for artists," said Clayton.
But in terms of goals, Clayton stays focused on the basics. "We just like things to run smoothly and have a good time," she said. "Being an artists' organization, everyone knows each other well. … There's a real friendly vibe, and we just make sure to facilitate that. … The weather is the weather is the weather, but we try to help everyone have fun, too."
Angela J. Cesere | AnnArbor.com