Posted on
Fri, Jul 12, 2013 : 5:47 a.m.
54th Ann Arbor Art Fair to bring 1,100 artists - and many thousand more visitors - to town
By Jenn McKee
• Full coverage of the Ann Arbor Art Fair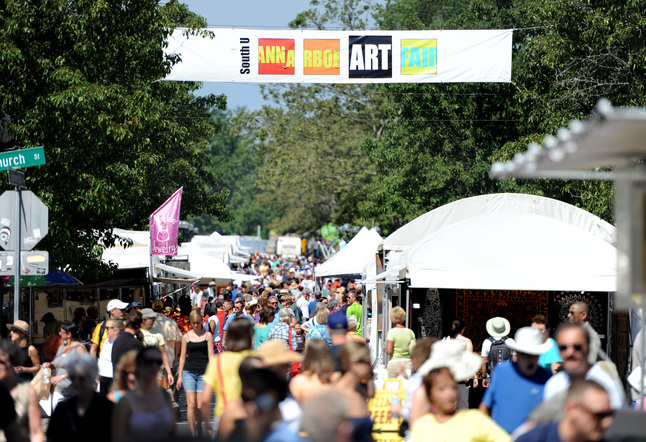 Angela J. Cesere | AnnArbor.com file photo
Even though this year's 54th annual
Ann Arbor Art Fair
will, as always, feature a few subtle adjustments and new additions, organizers will be thrilled if this year's fair looks an awful lot like last year's.
"I think last year made all the artists very happy," said "Max" Clayton, director of the Ann Arbor Summer Art Fair. (The Ann Arbor Art Fair actually consists of four juried fairs: Ann Arbor Street Art Fair, the Original; State Street Area Art Fair; Ann Arbor's South University Art Fair; and AASAF.) " … We have some artists who've been coming for a decade or more, so the Art Fair's also like reunion for them. And when the weather's great, people feel good, and there's more of a party atmosphere. … When you have that kind of environment, everything is better. Sales are better, everyone feels better, and it's just more fun."
"Visitorship was up," Street Art Fair director Maureen Riley said about last year's event. "Available parking spots were tracked, and they were pretty full, and the shuttles were full. So attendance was terrific, and when that happens, there are more art sales, and more local business sales, and everyone's happy."
Melanie Maxwell | AnnArbor.com file photo
For those who haven't experienced the Ann Arbor Art Fair, it's four days (July 17-20) every year when 30 blocks around U-M's campus and downtown are overtaken by white tents full of every kind of art imaginable—from the practical (furniture, kitchenware) to the "What the … ?" variety, and everything in between—including sculpture, painting, photography, pottery, mixed-media and much more. About 1,100 artists from 38 states and 4 countries will show their work this year.
Many local businesses and restaurants get involved, too, with sidewalk sales and outdoor booths, while musicians and performers do their thing—sometimes on "official" stages, sometimes spontaneously. Plus, there are art activities for kids, as well as artist demonstrations.
So what new things will fairgoers see this year?
For the first time, there will be a fourth shuttle option, on the north side, at Huron High School (music to the ears of those visitors arriving via US-23 and M-14); and thanks to ongoing construction on South University, all the fairs will geographically connect this year.
"Because of the construction, we had the opportunity to look at the layout … and think about working toward making the fairgoer more comfortable, and making the fair easier to navigate, so it's easier to know where you are," said Clayton. "With this slight accommodation, now all the fairs are connected. There's no empty blocks in between, and that's nice for the fairgoer."
Another new addition is the Kalahari Resorts misting station in front of the Michigan Union on State Street.
"It will be a nice place to cool down, and there will be some wonderful images there," said Clayton. " … You don't have to run through. You can enjoy the images and … there will be some nice surprises. We'll have some dancing in streets, and on Friday and Saturday, we'll have some special guests of the four-legged variety."
In addition, a Detroit-based street artist will do some large-scale painting at the Ann Arbor Street Art Fair.
As Riley said, "I think we sometimes forget what's available (at the Art Fair) besides the art."
Jenn McKee is an entertainment reporter for AnnArbor.com. Reach her at jennmckee@annarbor.com or 734-623-2546, and follow her on Twitter @jennmckee.