event preview
African American Downtown Festival celebrates history and culture Saturday
Posted on Fri, Jun 1, 2012 : 9:28 a.m.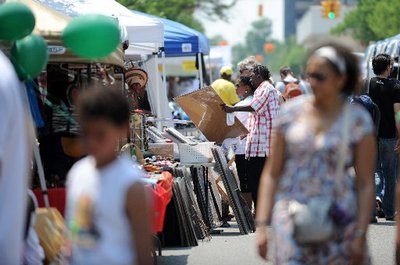 Melanie Maxwell | AnnArbor.com file photo

The 17th Annual African American Downtown Festival takes place this Saturday, June 2, from 9 a.m. to 9 p.m. in the North Fourth Avenue/Ann Street area of downtown Ann Arbor.

The event features live entertainment along with exhibitors offering art, food, health, beauty and collector items. This year the "Ultimate Kidz Korner" attractions include inflatable bouncers, a petting zoo and pony rides, face painting, arts and crafts, storytelling, a puppet show and more. Featured entertainment includes a yoga and pilates presentation; R & B, jazz, hip-hop, funk, and rock bands; as well as poetry presentations and a gospel hour.

One new vendor this year is DTE, which will be doing free client consultations on how residents can save money and have free money saving products installed in their homes; and providing information on money saving programs.

Founded by the late Lucille Hall Porter, the African American Downtown Festival pays tribute to the historic black business district in Ann Arbor. During the middle of the last century, the neighborhood surrounding North Fourth Avenue and East Anne Street experienced a "heyday" as a center for black-owned businesses, social life, and family life in Ann Arbor.

Porter had a vision of keeping the youth and community at large aware of the history African Americans have invested into the downtown area.

Individuals of different racial and ethnic backgrounds are encouraged to unite for a day of fun, education and integration of cultures. Admission to the festival is free.

For more information about the festival or to inquire about exhibitor space, clpfestival@gmail.com.