art review
AADL Malletts Creek Branch exhibit explores Tibetan culture
Posted on Fri, May 25, 2012 : 5:33 a.m.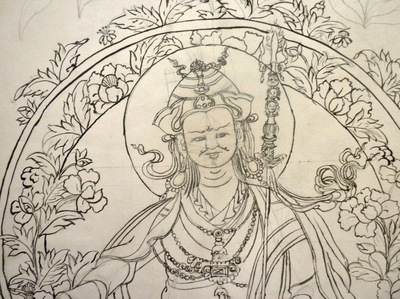 One of the most heartfelt art exhibits we're going to see this year, "Tibetan Children Thangka Drawings"—an exhibit on display at the Ann Arbor District Library's Malletts Creek branch—is ultimately as much about saving an endangered culture as it is a celebration of religious beliefs.

As the AADL's gallery statement tells us, the 25 thangka (pronounced tong-kah) drawings on display are modern preliminary sketches of an ancient Tibetan artform.

The drawings—as well as additional art by instructors and many color photographs of these kids at their Tibetan Home of Hope orphanage—reflect the effort made by these youthful residents of this institution founded by Tibetan doctor Tashi Dolma (who was forced to flee her homeland in 1990).

The Malletts Creek gallery statement says "This orphanage and school provides a home, education, and better future for about one hundred abandoned and orphaned children" through the program's varied activities such as artisan training, farming, beekeeping, and baking.

"Students in Tibetan Home's artisan program learn thangka painting, a scroll painting traditionally depicting deities of Tibetan Buddhism. The children learn to make the correct proportions, stance, hand positions, and symbols that make up each traditional image."

Father and son Steve and Zachary Schneider have spent part of their past three summers at Tibetan Home of Hope, and have returned with thangka drawings done by the children. Between the color photos and the black and white drawings, it's most certainly a display of goodwill.

It's also an exhibit that feels complete despite the fact that these drawings are only first approximations of Thangka art. For Thangka painting isn't painting in the conventional western sense—that is, a mere oil or acrylic artwork—instead, each painting is crafted on a panel upon which paint and/or embroidery underlay a textile mount on which silk is overlaid.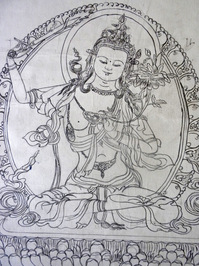 If this seems a considerable effort for a single work of art, it should be noted the Thangka serves a cosmological, theological, and social function in Tibetan culture. Typically depicting a Buddhist deity or serve as a mandala, these painstaking artworks are meant to reflect devotion through which both craft and function is melded into an expression of personal dedication.
The exhibit celebrates this joyful enthusiasm. Some of the drawings illustrate as much fervor as ability, but as is always the case with budding talent, it's likely not all the practitioners will go on to become masters. But this attempt at proficiency (clearly on display) is the least of this art's meaning.
As the photographs of these kids show, this training is only one facet of their lives. Yet as an orphanage whose subsidiary function is to keep their culture alive, the drawings also carry a heavy personal responsibility. In a very direct manner, their future and the future of their country depend on it.
These Thangka drawings therefore fulfill a dual function: Not only are they enlightening devotionals; they also serve as historical tools that show by visual example the significance of Buddhism to Tibetan culture.
The repetition one finds in this art, chiefly through the imagery of Bodhisattva who represents wisdom and compassion, is a creative learning of one's place in what today is an endangered Tibetan society. It's an artful sort of heroism.
"Tibetan Children Thangka Drawings," an exhibit provided by Steve and Mary Schneider of Bloomfield Township, will continue through June 14 at the Ann Arbor District Library Malletts Creek Branch, 3090 E. Eisenhower Pkwy. Exhibit hours are 10 a.m.-9 p.m. Monday; 9 a.m.-9 p.m. Tuesday-Friday; 9 a.m.-6 p.m. Saturday; and noon-6 p.m. Sunday. For information, call 734-327-4200.