concert preview
Ann Arbor Symphony welcoming return of Roman Rabinovich for Brahms 'And Friends'
Posted on Sun, Sep 30, 2012 : 5:50 a.m.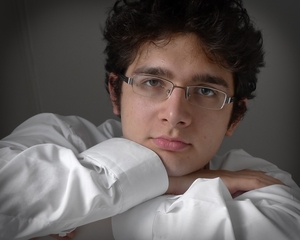 photo by Jose Franch-Ballester

When you start your season where a less intrepid orchestra might end it, with the Beethoven Symphony No. 9, the question arises of what you will do next.

For the Ann Arbor Symphony Orchestra, which opened the season with a bravura Beethoven Nine at a packed Hill Auditorium, the answer is to turn to another of those "B" List composers: Johannes Brahms.

"Brahms and Friends," the orchestra's October main-stage concert at the Michigan Theater Saturday evening, features the Brahms Piano Concerto No. 1, with the rising young pianist, Roman Rabinovich, as the soloist. And the Brahms' "friend" on the program, the Sibelius Symphony No. 2, is no also-ran, but a "Symphony of Independence" that drives to a mighty and heroic conclusion.

Rabinovich, the piano soloist in the Brahms, is no stranger to Ann Arbor audiences, having appeared with the A2SO twice in recent years, most recently as soloist in the Rachmaninoff Piano Concerto No. 3.

He is also no stranger to A2SO Music Director Arie Lipsky. Lipsky first met Rabinovich, now 27, in Israel when Rabinovich was a precocious 9-year-old.
PREVIEW
"Brahms and Friends"
Who: The Ann Arbor Symphony Orchestra, with Roman Rabinovich, piano.
What: Music of Brahms and Sibelius.
Where: The Michigan Theater, 603 E. Liberty St.
When: Saturday, 8 p.m., with pre-concert lecture at 7 p.m.
How much: $10-$58, with discounts for students, seniors, groups, through the A2S0 at 734-994-4801 and online at a2so.com.
"He looked like he was 6," Lipsky recalled the other day, "but he was incredibly mature." Lipsky remembered that Rabinovich showed him some of the pictures he had drawn—which were amazing. In the years that followed, Rabinovich made good on his gifts both musical and artistic. In addition to his concert career and his triumphs in competitions like the 2008 Arthur Rubinstein International Piano Master Competition, he has enjoyed exhibitions of his paintings and drawings. His website,
romanrabinovich.com
, offers examples not only of his musicianship but of his art.
When Lipsky and Rabinovich were discussing a return to the A2SO for the 2012-2013 season, Lipsky suggested that the pianist pick something new to him.
"I always try to get him to do things he hasn't done yet," Lipsky said.
Brahms happily fit that bill, Lipsky said, and Rabinovich chose the first of the two Brahms piano concertos.
"I am delighted to return to Ann Arbor and play Brahms' dramatic first concerto," Rabinovich wrote in an e-mail. "It is an early piece of Brahms and is very symphonic. Brahms continues the tradition of Beethoven, in which the piano part is simultaneously integrated into and juxtaposed against the orchestra. The opening of the concerto is highly dramatic, like Mozart's opera, 'Don Giovanni.' Brahms has described the second movement as the portrait of Clara Schumann.
"It is tender and intimate in nature, like a prayer. The piece concludes with an energetic and triumphant finale.
"I am especially excited to perform this work," he said, "because it is among my very favorite pieces of all time."