event preview
A little bit Nashville, a little bit Michigan: Nashbash music festival returns to Kerrytown
Posted on Sun, Aug 12, 2012 : 5:09 a.m.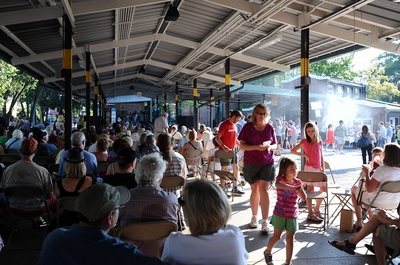 Melanie Maxwell | AnnArbor.com file photo

Once a year, Kerrytown is transformed into a little piece of Nashville, Tennessee. Music and barbecue festival Nashbash returns for its sixth installment, on August 16 at the Ann Arbor Farmers Market.

Bands and songwriters from Nashville and Michigan musicians who capture the spirit of the diverse music coming out of Nashville perform under the shade of the Farmers Market pavilion, while folks fill their bellies with BBQ provided by Aut Bar and other food from local vendors. Ann Arbor Artisans Market and the Trunkers of Trunkapalooza (who sell vintage or flea market-type items) will line up. Before the night is over, musicians head over to Aut Bar for a low-key open mic, which many of the Nashbash performers play at each year.

This year's featured Nashville artist is acoustic folk singer-songwriter Kathy Hussey. She is joined by Nashville-based bands Whit Hill and the Postcards (originally from Ann Arbor) and The hApHaZards, along with two Michigan acts, Hoodang and Matt Boylan.

Headliner Hussey was invited to perform her first show in Ann Arbor by fellow Nashville musician Whitley Hill, who co-founded the event with Kerrytown District Association President Deanna Relyea. Hill knows Hussey well.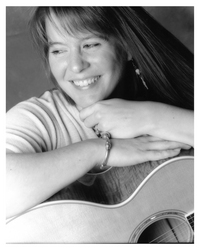 "When I first moved to Nashville, I heard about a weekly song circle on Sundays at a sports bar named Wilhagan's. Kathy is the leader of the group," Hill explains. "Things like that happen all over Nashville, but this one might be the longest running. Anyone can come sit in a circle and swap songs. It's a real broad variety of styles and music, people from all around the country and the world stop in."
"The first time I heard her play, I knew she was a master songwriter. She's a phenomenal lyricist who writes in a way that I respond to, and her guitar playing is very percussive and deep. She's a fine musician and a stellar person," Hill says.
Hill, who lived in Ann Arbor most of her life before moving in Nashville about 4 years ago, performs with her band Whit Hill and the Postcards at Nashbash every year. Hill and band mates Al Hill (her husband), Patrick Prouty, and Jim Latini are looking forward to showcasing some of the band's new songs, which will appear on an upcoming album to be released this fall. But what excites Hill the most is reuniting with Ann Arbor friends and keeping her connection to her former town strong.
Nashbash is about good music outdoors in the late summer, but it is equally about eating BBQ, imbibing beer and wine, shopping the booths, and enjoying Kerrytown's community-oriented ambiance.
Relyea, a founding co-organizer of Nashbash, thinks that the late summer event is a perfect opportunity to expose people to what is great about Kerrytown. Setting up a sort of "retailer's row" in the Farmers Market is one way to celebrate the area.
PREVIEW
Nashbash
Who: Alt-country acts Kathy Hussey, Whit Hill and the Postcards, The hApHaZards, Hoodang, and Matt Boylan.
What: Outdoor festival of Nashville-oriented music, with barbecue dinner available.
Where: Ann Arbor Farmers Market, off Fifth Avenue and Detroit Street.
When: Thursday, Aug. 16. Nashbash starts at 5 p.m. An open-mic after party outside of Aut Bar, across the street in Braun Court, follows at 8:30 p.m. to 10 p.m.
How much: Free admission.
The Ann Arbor Artisans Market, usually on Sundays, will make a special appearance during the Thursday night festival. The Trunkers of Trunkapalooza used to have a regular presence at the Farmers Market, selling flea market-type items, but it was discontinued a couple of years ago. Nashbash is where you will find them now.
Relyea hopes that a lot of Kerrytown area small businesses will join the party by setting up booths. "Artisans from anywhere or businesses located in the Kerrytown area are encouraged to contact me to arrange for a booth," says Relyea, who also directs the Kerrytown Concert House. You may contact her at 734-709-0697 or email her at kch@kerrytown.com to do so.
"We think of this as a signature event for the Kerrytown area, so inviting Kerrytown area businesses to take a booth exposes people to what we have to offer in terms of our very special, unique stores. It reinforces the community feeling of our area," Relyea says.
And anyone who has been to Nashbash in the past knows that the food and drinks are another thing to look forward to. Aut Bar serves up good ol' American BBQ. There will also be a handful of food cart vendors serving up eats. Everyday Wine, a Kerrytown shop, and local beer brewer Wolverine State Brewery are taking care of the booze.
With Ann Arbor's two giant events under our belts (the Summer Festival and Art Fair are over), this more intimate but popular community gathering keeps the party going into late summer for fans of free live outdoor music.