Urban Energy Works building 'green on steroids' condos in Ann Arbor's Water Hill neighborhood
Posted on Thu, Jul 12, 2012 : 5:56 a.m.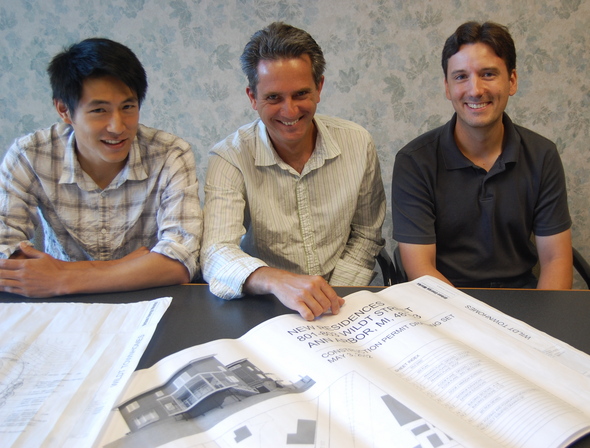 Janet Miller | For AnnArbor.com

As Urban Energy Works dips its finger into the home construction pond, it wants to make sure it comes out green. Deep green.

The Ann Arbor-based builders have launched a small condominium project in the Water Hill neighborhood just northwest of downtown that will go beyond being net-zero, the term used to describe a building project that produces all of the energy it uses. The two-condo project on Wildt Street is expected to produce more energy that it consumes, said Pano Tharouniatis, principal of Urban Energy Works.

Call it PlusEnergy.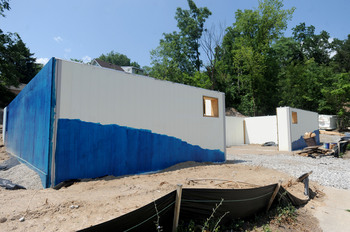 Angela J. Cesere | AnnArbor.com
"It will truly generate more energy than it consumes, but it has been designed in such a way that a family doesn't have to sacrifice style and comfort," said Nathan Doud, another partner with Urban Energy Works. Added Tharouniatis: "It's not going to feel like a spaceship." The firm's third partner is Smith Thepvongs.
As home sales and new home starts begin to heat up, green construction has become a way for builders to separate themselves from the pack, said Realtor Alex Milshteyn, who is listing the Wildt Street project, which is expected to be completed in the fall. And while there are a handful of Ann Arbor remodelers who focus on green building, there are no new homebuilders who go as far green as the Urban Energy Works project, he said.
"Everyone wants to say they're building green," Milshteyn said. "But just because your R value (a measure of the efficiency of a structure's insulation) is higher doesn't mean you're building green." Green building design has become so popular that the Ann Arbor Area Board of Realtors last week added a field on their home database form for energy certification, said Ginger Nefsey, multiple listing manager for AAABOR.
While Urban Energy Works doesn't have buyers for either of the condos, there has been steady interest, Milshteyn said, including a potential buyer who flew in from Seattle on a red eye flight last week.
Courtesy photo
The project takes green building design such as passive solar design, added insulation and water capturing to the next level. "This is green on steroids," Milshteyn said. "It's hard to say this is just green. We've never seen anything like this in our area before."
Powering the house drove the design, Tharouniatis said. They will install a 28.8 KW (14.4 KW for each unit) solar panel system on the south-facing roof, the largest installation on a residence in the area, he said. They tripled the standard amount of cellulose insulation to 15 inches. Because of the insulation, a smaller heating and cooling system will be needed, using an electric powered air source heat pump along with a heat recovery ventilation system.
The solar panels will produce enough energy to power all this and still return energy to DTE. The only monthly energy cost will be a nominal service fee. DTE does not offer a credit for unconsumed energy the house produces, although someone with an electric car could tap into the system, Thepvongs said.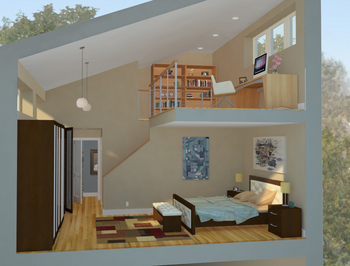 Courtesy photo
A system of giant cisterns with a 6,000-gallon capacity will be buried on the property, capturing and holding rainwater that will be filtered and can be used for gardening and to wash laundry and flush toilets.
The will be no-VOC paints and the oak flooring and interior wall studs will be FSC (Forest Stewardship Council) certified. The plywood panel under layer will be low VOC. There are other green features: PaperStone countertops, made from recycled paper and resin, will be in the kitchen; reclaimed mahogany wood will be used for the outside deck and native plants will be used in the landscape where there will be a no-mow lawn and a rain garden.
They will seek LEED platinum certification from the U.S. Green Building Council along with Indoor Air Plus certification from the Environmental Protection Agency. .
The house on the property at the corner of Wildt and Summit streets had sat vacant for more than a decade and had become an eyesore, Tharouniatis said, when he bought it two years ago with the idea of razing it and building new. He has built a handful of new houses in the area and owns a number of student rentals.
The stats

801 Wildt: 2,307 square feet, three bedrooms, 2.5 baths, list price is $565,000.

803 Wildt: 2,840 square feet, four bedrooms, 2.5 baths, list price is $595,000.