Tecumseh Products Co. opens 35,000-square-foot 'corporate think-tank' in Pittsfield Township
Posted on Sun, May 6, 2012 : 5:57 a.m.
Lizzy Alfs | AnnArbor.com

Global manufacturer Tecumseh Products Co. recently opened a 35,000-square-foot technology center in Pittsfield Township in a move that replaces dated lab space in Tecumseh.

The 78-year-old company — which manufactures compressors for multiple types of cooling units and employs 7,300 worldwide — purchased a 50,000-square-foot building in the State Street Business Park on Hines Drive in 2010.

After transforming 35,000 square feet into various lab spaces, the company has roughly $15 million invested in the building, including new and old equipment, said CEO Jim Connor.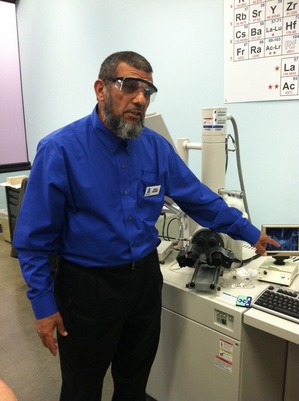 At a grand opening celebration this week, the company showcased its new space and technology, much of which is devoted to developing more energy efficient and eco-friendly products.
The facility contains computer simulation, testing and analysis tools, including two large-scale environmental chambers with hydrocarbon refrigerant testing capability.
The opening of the technology center relocates 25 employees from Tecumseh to Pittsfield Township, and Connor said the company plans to bring about five more people to work at the new center.
"This is like our corporate think-tank," Connor said. "It's not a lot of people, but very important."
Connor said Tecumseh Products — which already has 50 employees at its corporate headquarters on Oak Valley Drive in Pittsfield Township — chose to relocate its technology center from Tecumseh to Pittsfield largely because of the University of Michigan. The company moved its headquarters from Tecumseh to Pittsfield in 2008.
"There was a real thought process we went through of whether we should move to Mississippi," Connor said. "When we bought this building, we knew it'd be a commitment to this area. We like it because it's a place to draw talent. It's a great place to live and to work."
The opening of the Pittsfield Township technology center comes shortly after Tecumseh Products warned of additional cuts after the company posted a net loss of $73.2 million in 2011.
Its net loss rose 27.9 percent from 2010 to 2011, leading to a number of initiatives in 2011 to reduce overhead costs, including reducing headcount.
Michael Smith, the company's manager of global marketing communications and branding, said there has been no "large-scale restructuring" since the announcement in March, but that Tecumseh Products continually evaluates its staffing levels and makes adjustments.
One positive sign for the company is sales increases in Latin America, where air conditioning is becoming more common in homes.
Tecumseh Products has additional North American facilities in Mississippi, Tennessee, Canada and Mexico.