Scio Township-based medical device manufacturer Terumo receives tax abatement on $4.9 million infrastructure investment
Posted on Fri, Jul 27, 2012 : 5:57 a.m.
Terumo Cardiovascular Systems has been awarded a 12-year tax abatement by Scio Township for $4.9 million in capital investments to its headquarters in the township.
Barbara Schmid, a spokeswoman for Terumo CVS, said the investments are part of a consistent effort to improve the facilities, located just off of Jackson Road.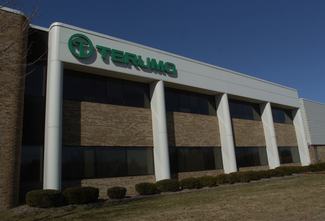 File photo | AnnArbor.com
The company manufactures medical devices, and specializes primarily in devices used in heart and lung operations.
"We're doing renovations in several of our buildings, there are lighting upgrades, and we're putting in a new training lab for one of our new business units," she said.
Scio Township Supervisor Spaulding Clark said that abatements are used to encourage industrial development in communities across the state. When an abatement is given, it allows the property owner to slowly phase in payment of the increase in property taxes that come with property improvements.
Clark said the abatements are typically for 50 percent of the increase, and phase out over the period agreed upon by the taxing entity and the business.
"The township board are the ones who have final approval over the abatement," he said.
"There's a promise implicit in all this that either they will increase investment in the region, or perhaps increase their employment."
Schmid said Terumo CVS has been increasing its employment levels significantly over the past two years, and plans to continue its investment in the Ann Arbor area.
The company employs about 600 full-time workers in the Ann Arbor area.
"Terumo has been part of the fabric of this community for many years, because of the strong business support and exceedingly talented workforce that lives here," Mark Sutter, president and chief executive officer of Terumo CVS, said in a news release.
Terumo Cardiovascular Systems was founded by Ann Arbor inventor Dick Sarns as Sarns, Inc. in the 1960s. Terumo's parent company acquired then Sarns-3M in 1999.
Ann Arbor SPARK helped to facilitate Terumo's application for the abatement and has worked closely with Terumo CVS in the past, helping the company find talent and economic incentives in the area.
Terumo also is in the process of completing a newly engineered quality system after the FDA placed a $35 million fine and manufacturing restrictions on the company last spring after quality control problems were identified. Schmid said that Terumo has met every time commitment thus far and the obligation is scheduled to be completed in spring 2013.