Posted on
Mon, Oct 1, 2012 : 5:59 a.m.
Costco effect: Retail development proposed for South State Street in Ann Arbor
By Lizzy Alfs
Banking on increased traffic from the new Costco warehouse store, the owners of a property on South State Street north of Ellsworth plan to build two new retail buildings.
Site plans submitted to the city of Ann Arbor last week call to demolish an existing vacant building — a single-family house and garage — and construct two one-story retail buildings in two phases.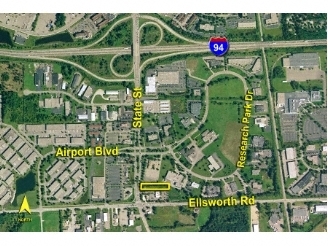 Photo from loopnet.com
Together, the buildings would total 8,531 square feet and would include a single-lane drive-thru to serve the front building. The 1-acre property has commercial zoning.
"We're really close on a lease for the building with the drive-thru," said Bob Andrus of Michigan Commercial Realty, the broker who has been marketing the property for lease.
"It's going to be a national food franchise going in there…the other building, we aren't sure what's going to go in yet," he continued.
The property owner and developer is the Schwarcz family, represented by Jim Cernuto of J.M. Willens Corp. The architect for the project is West Bloomfield-based Atelier Architect.
Andrus said the development — fueled by the opening of the new Costco warehouse store less than a half-mile away — is a significant improvement over the property's current use.
"It's a little old house that probably hasn't been occupied for five or 10 years," he said. "It just adds no value at all to the property and really hasn't for a long time."
He added: "No question, the Costco coming in is what generated this activity. We had some interest prior to that, but the minute Costco was mentioned the light turned on. It's a draw."
A new Tim Horton's is in development just south of the property on the site of the former Enzo's Sports Bar.
Additionally, on the southeast corner of the State and Ellsworth intersection, developer Howard Frehsee has been planning to build a 15,750-square-foot retail center for years, but the project - next to the new Speedway - was stalled due to the economic downturn.
The plans, which received township approval in 2010, include a 5,000-square-foot free-standing outlot building on a 5.75-acre parcel, just east of the State and Ellsworth intersection's southeast corner. Freshee told AnnArbor.com in June he still plans to move forward with the project.
Lizzy Alfs is a business reporter for AnnArbor.com. Reach her at 734-623-2584 or email her at lizzyalfs@annarbor.com. Follow her on Twitter at http://twitter.com/lizzyalfs.