with poll:

Restaurant Week keeps Ann Arbor's downtown restaurants busy, diners happy

Posted on Thu, Jan 21, 2010 : 6 a.m.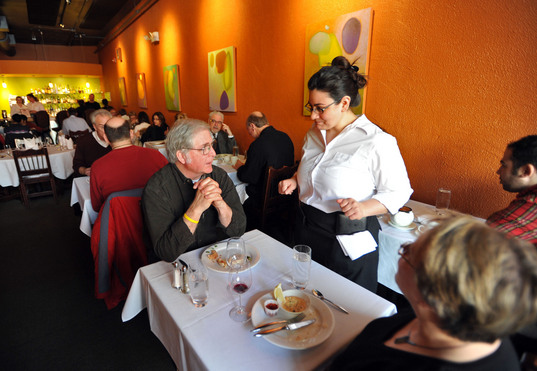 Mark Bialek | For AnnArbor.com
Ann Arbor's downtown restaurants are taking a bite out of the January blues.
Most of the 28 participating restaurants are bustling as Restaurant Week traffic fills tables and brings crowds into downtown.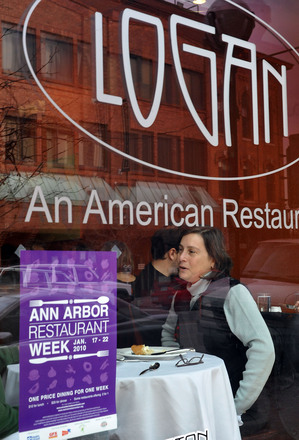 Mark Bialek | For AnnArbor.com

Ann Arbor Restaurant Week - an idea borrowed from big cities such as New York and Washington D.C. where restaurants join together to offer prix fix meals for lunch and dinner over the course of a week - was so successful last June that the Main Street Area Association decided to organize it twice a year, said director Maura Thomson.
"Restaurant Week in June went far better than anyone expected. There was a phenomenal response. It has become the signature food event in Ann Arbor," Thomson said.
The owners of Logan An American Restaurant on West Washington Street agree. "We beat every record we had in terms of sales and the number of people served last June," said Ryan Gillies, co-owner and general manager. "We saw a lot of new people."
And while Tuesday's lunch crowd wasn't as busy as hoped for, it is booked solid for dinner for the entire week.
The winter version of the event started Monday and runs through Friday.
This week has been so successful that Vinology on South Main Street will probably hold a Restaurant Week of its own in February, another traditionally slow time, said Steve Weber, one of the managers.
A normal Sunday sees 75 guests served, he said. Staff welcomed 230 guests Sunday night, and had reservations for more than 200 for Wednesday night. "When I walk in at 9 a.m., the phone starts ringing," he said.
The idea is to fill restaurant tables during traditionally slow times, attract new customers, lure people to downtown and offer diners a bargain.
While some restaurants offer courses off their traditional menu, others use Restaurant Week try new dishes. But they all offer lunch for $12 (some of the less expensive restaurants offer two lunches for $12) and a three-course dinner for $25 (with some offering two diners for $25).
Restaurant Week has seen Logan debut new menu items - mahi mahi risotto, for instance - but also keep with some of its regular fare to help keep the kitchen operation smooth.
Vinology created new menu items - herb roasted sirloin of beef and roasted chicken pot pie, for example - as a challenge, Weber said.
"We tried to create three (main entrée) dishes for just about every palate: A vegetarian, a carnivore and a fish. We look for things that a wide spectrum of guests will find appealing."
Restaurant Week has seen restaurants significantly busier at lunch, and even busier at dinner, Thomson said. "Some restaurants are completely booked for dinner. I haven't heard from one restaurant that it wasn't an incredibly effective promotion."
High-end restaurants can see the biggest bump during Restaurant Week. For The Chop House, an upscale steak house on Main Street whose entrees range form $29 to $35, the first Restaurant Week was a smash hit, said Kevin Gudejko, director of operations for Mainstreet Ventures, which owns the Chop House and three other downtown Ann arbor restaurants.
The Restaurant Week menu serves smaller portions (a 6 oz. filet mignon compared to an 8 oz. and 11oz. off the regular menu) but the same quality, Gudelko said.
But for Palio, a less expensive Italian eatery across the street also owned by Mainstreet Ventures, some tweaking was needed this time around, Gudejko said. The $25 dinner offered in June (they are closed for lunch) was too close to the restaurant's traditional price points, he said.
This week, Palio is offering two dinners for $25, but staff will offer new menu items, such as spaghetti and meatballs.
The promotion's success also is attracting some non-member restaurants to offer specials this week, such as The West End Grille and Weber's Inn, on the westside of Ann Arbor.
While Restaurant Week offers a bargain to diners, most restaurants aren't losing money on the deal, their staffs staid.
"While the ticket average is down, we make up for it in volume," Gillies said of Logan. Regular entrees range from $18 to $32 and the average dinner tab runs around $50 a person, he said.
"The goal isn't to be a big revenue maker," Thomson said. "It's all about promotion. It's all about bringing people downtown in January and introducing people to your restaurant."
Restaurant Week is still good for Vinology's bottom line, Weber said. "Anytime I can serve more than 200 people, I'm going to make money."
For more information on Ann Arbor restaurants, visit AnnArbor.com's restaurant guide.