Retail report:

Rejoice Clothing Store is the latest business to open in Ypsilanti's Depot Town

Posted on Sun, Aug 19, 2012 : 5:59 a.m.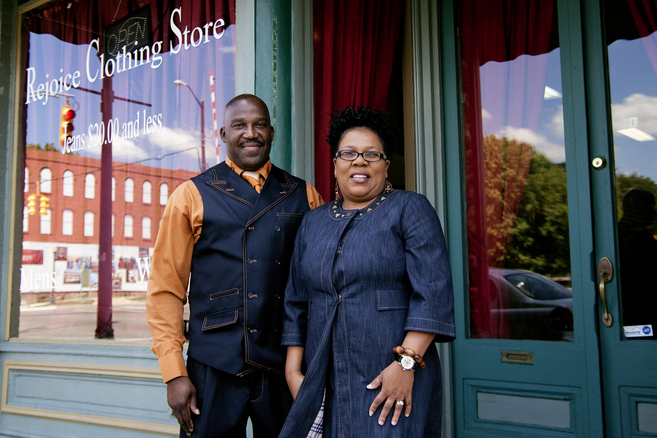 Jeffrey Smith | AnnArbor.com

Rejoice Clothing Store is the second clothing store to open in Depot Town within the last month, continuing the trend of new businesses opening in Ypsilanti.

Longtime Ypsilanti residents Terry and Dorothy Blackmon decided to open the store because they thought there needed to be another shop offering affordable clothing in the area.

The 1,000-square-foot store had its grand opening Aug. 7.

The Blackmons specialize in jeans but also sell jewelry, hats and other types of clothing and accessories.

The couple searched around the Ypsilanti area before deciding on the Depot Town location at 50 E. Cross St. next door to Sidetrack Bar and Grill.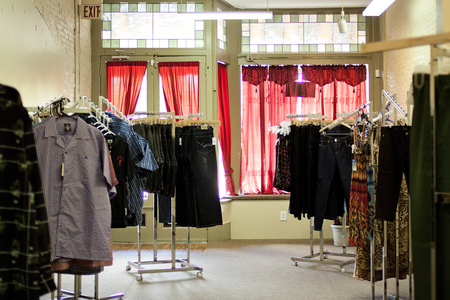 Jeffery Smith | AnnArbor.com
"We looked at a lot of areas but focused on Depot Town because my husband works right down the street at
Eastern Michigan University,"
Dorothy Blackmon said. "Since we're from Ypsilanti and we're born and raised here, we wanted something closer to our heritage."
Depot Town was well suited to the Blackmons' business plan because the area draws a mix of people, including college students. Terry Blackmon said the store sells "reasonably priced" jeans for $20 or less that may prove to be attractive to college students.
"We want to be able to partner with a lot of the college students so they don't have to go to the main stores or mall and they can come to us instead," Dorothy Blackmon said. "We would have stuff available to them and also families."
The area needed some renovation, Terry Blackmon said.
"We had to customize it to retail and bring in racks, but we didn't have to put any walls or anything else up," he said. "We just put our touches in."
The Blackmons have five employees currently and said they may hire more if needed, but they also have plans to expand in the area.
"This is not a one-time thing," Dorothy said. "We're looking to open more stores. They would be spinoffs and in the near future we may look to hire more at the right time, once we get everything going and introduce ourselves to the city."
Other downtown business owners have been welcoming despite the new competition, Terry Blackmon said. "That's the most exciting thing," he said. "They all came out and gave us a warm welcome and the owners are very receptive. That automatically makes it one for all and all for one."
OneLove Culture Shop, another family-owned business, opened in Depot Town Aug. 10.
As longtime residents, the Blackmons have seen the city change drastically over the years.
"Back in the day in the '60s, it was all kind of stores," Terry Blackmon said. "Now, driving down Michigan Avenue, I said 'wow, look at all of these stores.' It's a beautiful thing it's beginning to look like it used to."
A robust economy and a safe environment will aid Ypsilanti, he said.
"If people are having problems in the city, they won't shop in the city," he said. "Look at downtown Ann Arbor: People like to be there. We would like to see that here in Ypsilanti."