Q&A:

New owner of Howard Cooper auto dealership talks industry changes, Cooper's generosity

Posted on Sun, Sep 23, 2012 : 5:58 a.m.
Melanie Maxwell | AnnArbor.com

Germain Motor Co. President Steve Germain might operate four automotive dealerships in Ohio and three in Florida, but he still considers himself a Michigan man.

Germain, the new owner of the Howard Cooper Import Center on Ann Arbor's South State Street, said he's thrilled to be operating a business in such a "cool city."

"I've always enjoyed coming to Ann Arbor," he said. "I married a Michigan girl, and my daughter went to school here. Now I have a significant investment in Ann Arbor and I'm very excited about being a part of the community."

In April, Howard Cooper, 83, announced his plans to sell the dealership after 47 years.

Located on a 10-acre site north of Eisenhower Parkway, the dealership has been a staple in the community for decades. Cooper opened it in 1965 as a Volkswagen dealership, and later expanded with the additions of Porsche, Audi and Honda.

The financial details of the deal have not been available, but according to city documents, Germain purchased the property for $12.14 million.

As the ownership officially transitions this month, Germain sat down with AnnArbor.com to talk about his plans for the Ann Arbor store, changes in the auto industry and his thoughts on Cooper's hefty employee bonuses. Here are excerpts from that conversation:

AnnArbor.com: Tell me the story of how Germain, an Ohio-based company, came to acquire an Ann Arbor dealership.

Germain: Being in this market over the years — primarily early on because my mom and dad went to school here and then my daughter, Jessica, went to school here — going down State Street, you drive right by Howard Cooper Imports.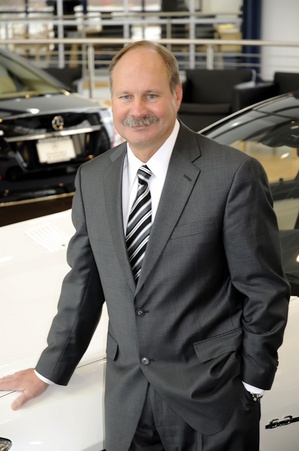 Courtesy of Germain Motor Co.
A couple years ago, I was in town for a Mott Hospital fundraiser and I was jogging down the street here and saw the Howard Cooper sign. I thought, 'I wonder if there is really a Howard Cooper?' That night, we go to the fundraiser, and somebody actually introduced me to Howard Cooper. I was like in awe; I had trouble even expressing myself.
A couple years later he made the decision he was going to retire, and he and I had stayed in touch, and he asked if I had any interest in acquiring the business. I said, 'I'm on my way.'
AnnArbor.com: What makes the Germain Motor Co. unique compared to other dealerships and owners in the business?
Germain: I think what makes us unique and what makes me unique is my understanding of relationships and how important they are in this business. Relationships build trust, and trust is really important. Whether it's relationships with our customers, relationships with our employees or relationships with our vendors, they are very powerful. Cars are cars, there's not much difference between them these days, but it's now about providing the experience through relationships on the showroom floor and service room that the customer can feel good about.
AnnArbor.com: What will you change about the Ann Arbor dealership?
Germain: The only thing that's going to change is the name on the front of the building. Germain will go on the Honda building. The other buildings will be referred to as Audi of Ann Arbor, Porsche of Ann Arbor and Volkswagen of Ann Arbor. We liked the idea of promoting those stores by using Ann Arbor only.
All four brands will stay. We're very excited about Honda and Volkswagen. Porsche is a great franchise; it doesn't generate a lot of bottom-line revenue, but it generates a lot of buzz.
AnnArbor.com: Howard Cooper said employee retention was a condition of the deal. Do you plan to keep the existing employees, and will you hire any additional employees?
Germain: Yes, we will keep the employees, and yes, we will also hire more. It was very important to Howard — once we agreed on the terms of the transaction — that we interact with his employees and get to know them. Those four months prior to the close (of the deal) really helped us create a sense of ease. Now, our focus can be on the customers and trying to create those relationships to drive them to do business with us.
We believe there's opportunity and that the market can support some additional sales in all the brands. We have a responsibility to the manufacturers to increase their sales in Ann Arbor here at the store.
AnnArbor.com: You say you need to increase sales at this dealership, by how much?
Germain: Nationally, all the manufacturers are looking for significant sales improvements through their retailers. They see significant opportunity for growth in the future. They're looking for an increase of sales of two to three times. Cooper was getting the job done, but now the manufacturers are asking for it all. We're going to do everything we can to improve sales, keep the buildings clean and comfortable and maintain customer satisfaction to sell two to three times as many cars that were being sold.
AnnArbor.com: Do you have a sense of how the Ann Arbor auto market compares to other parts of the Midwest or U.S. where you operate dealerships?
Germain: There are a lot of similarities between Columbus and Ann Arbor. They're both college towns, technology driven, kind of upscale and educated communities. We have done a lot of work over the last six or eight months in understanding the buying habits of the citizens of (Ann Arbor). We've been in Columbus for 67 years; we've been in Ann Arbor for seven days, but it won't take us long to have the success in Ann Arbor we've had in Columbus.
AnnArbor.com: The auto market has been on somewhat of a rebound, and Michigan, especially, is experiencing growth. What are some trends you've noticed over the past few years?
Germain: The recession in 2008 and 2009 was a defining moment in our industry. The number of car dealerships reduced by about 20 percent. People's love affair with the car is still strong, but it has a price limit. Fuel economy has become very important because of the price of gasoline. People, now more than ever, are really looking for value. Style is no longer as important as it was.
Young people are riding the bus, walking and driving with friends…and people are not as brand loyal as they used to be. People used to drive only Fords or only Chevys; now people don't have that loyalty. As retailers, we understand that. We have to provide an experience to you that is above and beyond the product, because products have become secondary. It's a different industry, but it's a better industry. It's more consumer friendly and environmentally friendly.
AnnArbor.com: Howard Cooper made national news this month when he gave his employees some hefty bonuses. What was your reaction to his decision?
Germain: I was not surprised at all. He didn't tell me; he didn't tell anybody. He did it several days after he sold the store. He was not looking for any attention, he wasn't looking to me for any support or a blessing, and it was something that he felt absolutely obligated to do. Nobody was going to tell him it wasn't a great idea or it was too much money, he felt a sincere obligation to the people that had worked for him for all those years.
Howard had a lot of people that had been with him for a long time and he wanted to thank them in a way that they would really appreciate and that would have the most impact.
We have guys like Howard Cooper that set the bar for the next generation and the way we have to manage our business and treat our people. Hats off to Howard, those are some big shoes to fill. If people are now looking to me to do wonderful things, I'm not sure I'll be able to follow that show, but I'll do the best I can.