New live-shot stage in Domino's Farms allows TV networks quicker access to Ann Arbor experts
Posted on Thu, Aug 16, 2012 : 5:57 a.m.
A new studio at Domino's Farms will make the commute to the airwaves shorter for local experts.
The "stage," owned by Moonlink Studios, will be used by major television networks to beam in the faces and voices of Ann Arbor area business leaders, sports commentators and university professors as they comment on the day's news.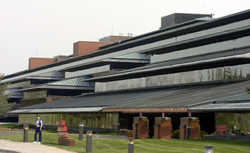 AnnArbor.com files
"It has a multitude of users,"
Robin Tracey
, executive producer and director of Moonlink, said.
"It serves educators from the university, certainly (Domino's Pizza CEO) Patrick Doyle is on the air at least once or twice a month, and we have a lot of sports-related live shots that come out of here."
The studio is fitted with fiber optic cables that allow for the transfer of voice and video information. Steve Wild, CEO of Moonlink's parent company Ringside Creative, said the stage can facilitate live shots or can be used to conduct pre-taped interviews.
Moonlink has three other studios in southeast Michigan, but Tracey said she had received a number of requests from guests who were interested in having a studio just a bit closer to home.
Experts interviewed on major television networks often appear remotely, Wild said, and most major metropolitan areas have companies that provide live-shot services.
Moonlink has a staff of approximately 15 employees who work at all four stages, which are only opened when in use for a job. Tracey said Moonlink usually receives somewhere between five and 48 hours notice when a network wants to use a studio, but for breaking news they sometimes have under three hours to prepare the shot.