Homeowner invests $80K to rent out backyard for upscale tailgating
Posted on Sat, Aug 25, 2012 : 5:59 a.m.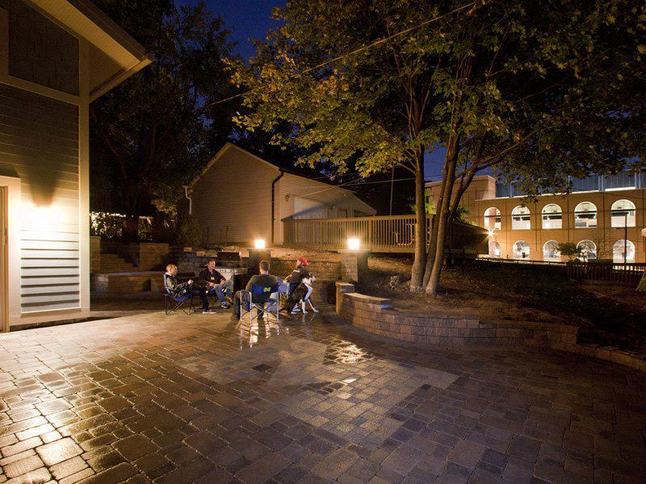 Courtesy Martin Vloet

Many who live in close proximity to the Big House give up their lawn on home football Saturdays to make a few dollars from the cottage "supplemental parking" industry.

Martin Vloet has gone a few steps further. He has invested $80,000 and hours of his own personal labor in MGoPatio, a prime tailgating space that Vloet hopes to rent out for corporate and private functions before, during, and after games.

Vloet, a photographer who works for the University of Michigan and gets to watch most football games through a lens on the sidelines, has turned his backyard into a tailgater's paradise. A 1,500-square-foot red brick patio emblazoned with a large block "M" is abutted by a two-story two-car garage. The garage building has multiple flat-screen TVs, a grill, tables, and lawn chairs; the only thing missing is a built-in bean-bag toss game.

Those private revelers looking to throw their party away from the crowds in the parking lots that surround the stadium can rent all or part of the area for $1,800 to $4,000 depending on the event and how much of the space will be used.

When Vloet and his wife bought the property at 312 Berkley Ave. in 2007, it came with a small one-car garage in the back that he wanted to get rid of. After advertising the structure as a "free garage to good home" on craigslist, he was delighted when a family came and deconstructed the entire thing in one day. They took everything but the shingles to a farm up north, and Vloet was left with an empty back yard.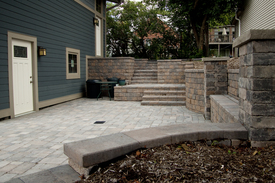 Jeffrey Smith | AnnArbor.com
"We wanted to just put in a two-car garage with some accessory living space," Vloet said.
"We were going to be starting a family, we have a daughter who's now 2, and we didn't have a dining room in the house. We knew we needed some space to expand."
During the construction of the new garage, Vloet rented out the space for a 40th birthday party. Between the positive reaction of the partiers to his location and watching loud boisterous parties every week on the patio next door, Vloet decided to go all-in and bring MGoPatio to life.
While the structure of the approximately 1,200 square foot garage was built over a few days in early 2008, the finishing touches to what became a project lasting more than four years are being applied to the space as football season quickly approaches.
Now Vloet is working on finding customers willing to pay the somewhat hefty-price to rent the location for Michigan home games and the Winter Classic.
Sports Illustrated will be hosting a private party on the patio during the Michigan State game, and Vloet has likely found clients for the final game of the season as well. However, the Air Force, Massachusetts, Illinois, and Northwestern games are still open, just two and a half weeks before the first home game of the season.
"The goal with having the event at MGoPatio is to bring the fun and high profile kind of upscale events back to Sports Illustrated," Andrew Robinson, who works for SI in West Bloomfield, said.
"It's going to be a party for some of our top-tier clients from in and around the area, giving them an opportunity to tailgate right next to the Big House."
Vloet hopes to eventually also ship off his house, a "kit" house that he said Habitat for Humanity is interested in taking away in its entirety.
"We are resigned to the house being an ugly sister for a least a couple more years," he said.
"But we're going to redo the thing eventually, with similar eco-friendly materials that we used when building the new garage."
For now though, Vloet is squarely focused on filling out this season's schedule. He is offering discounts through his Facebook page in an attempt to drum up business and is also raffling off four Big House bench seats to fans who "like" the page.