Kroger will add gas station to existing Washtenaw County store
Posted on Fri, Aug 3, 2012 : 5:58 a.m.
(This story has been updated to reflect a headline correction.)
A new Kroger gas station is expected to open by the end of 2012 on a property adjacent to the Kroger store in Ypsilanti Township.
The planning commission recently approved site plans for the building, which will be on a nearly 1 acre lot at 1771 E. Michigan Ave.
The station mainly will focus on gas with 10 pumps on five islands. There will be no convenience center, but an approximately 100-square-foot kiosk that will sell a few items.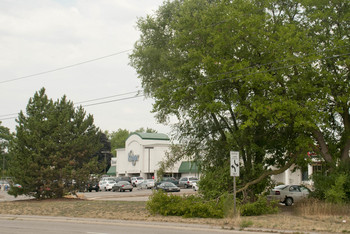 Tom Perkins | For AnnArbor.com
Ypsilanti Township officials said the stations, like one on Carpenter Road in Pittsfield Township, are popular with residents because they can receive discounts on gas for signing up for various Kroger incentive programs in the grocery store.
The company steadily has been adding gas stations to their stores throughout the last several years.
For every $100 spent on groceries in the store per month, a customer receives 10 cents per gallon off gas. Customers with a Kroger Plus Card and a Kroger 1-2-3 Visa receive 15 cents off each gallon of gas.
Ypsilanti Township Planning Coordinator Joe Lawson said the plans are in the final engineering stage and he expects construction to begin soon.
Quad Investments owns 4.08 acres of land just east of the store and Kroger plans to purchase around an acre pending approval of the final plans. The entire plot of land has an assessed value of $73,800.
Lawson said the township is pleased another business is opening and expanding in the E. Michigan Ave. corridor.
"This is an example of how what we've been doing to clean up that area is being taken seriously by business owners and other stores to a point where they are willing to reinvest in that corridor," Lawson said. "We do what we can at the township to keep those blight programs moving along and get businesses to reinvestment."
He said construction has begun on a nearby Taco Bell and cited a Speedway whose owners recently rebuilt a larger and newer operation. He said several other projects along the corridor are in the works and will soon be announced.