Financial Times:

JC Penney plans to get rid of traditional cashiers and checkouts by 2014

Posted on Fri, Jul 20, 2012 : 1:22 p.m.
In an attempt to cut costs and make customers' shopping experience more enjoyable, department store chain JC Penney wants to rid of checkout lines, counters and cashiers.
The plan — announced by JC Penney CEO Ron Johnson at a Fortune conference this week — is inspired by Apple's retail stores, the Financial Times reports.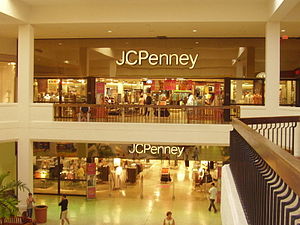 Photo from Wikipedia
"You'll be able to check out anywhere, anytime," Johnson said.
He said store employees would roam stores with mobile devices attached to credit card readers — an increasingly popular method of payment processing.
The company is rolling out the plan starting next week in the Levi's retail areas inside 700 JC Penney locations, according to the report. It also plans to introduce self-checkout facilities.
Whether the plans include staffing cuts is unclear.
JC Penney, which has a store in Ann Arbor's Briarwood Mall, employs 159,000 workers. Founded in 1902, the company operates 1,102 department stores in the U.S. and Puerto Rico.
It launched a new pricing strategy early this year, one based on "everyday best prices" and not sales.
The Texas-based company was valued at about $4.44 billion based on a Friday stock price of $20.27.
Read the full Financial Times report here.
For an in-depth look at mobile payment processing, read an AnnArbor.com report here.