With gallery:

Developer offers first glance inside Ann Arbor's new City Place apartments

Posted on Mon, Aug 13, 2012 : 5:56 a.m.
After years of planning and nine months of construction, the first tenants moved into Ann Arbor's new City Place apartments last week.
The 24-unit, 144-bedroom apartment project, on Fifth Avenue just south of downtown, was completed two weeks ahead of schedule and has opened its doors to about 30 residents so far, said developer Jeff Helminski.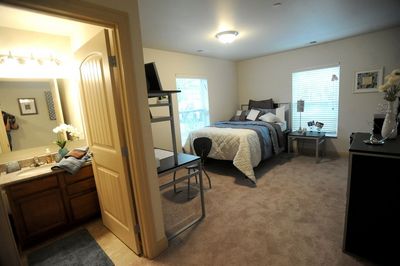 Angela Cesere | AnnArbor.com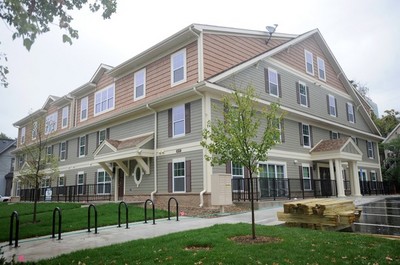 Angela | Cesere | AnnArbor.com
"(The project has) been really well received," he said. "If we're not 100 percent full, we'll be pretty close come the start of school."
City Place consists of all six-bedroom units in two identical buildings, separated by a 36-space surface parking lot. Seven century-old homes in Ann Arbor's Germantown neighborhood were demolished in November 2011 to make way for the development.
Helminski — who offered AnnArbor.com a first glimpse inside the completed development this week — said City Place's six-bedroom format is turning out to be "very desirable" to students and young professionals.
"A lot of grad students don't want to be in the rat race of the South University area," he said. "They like being closer to downtown."
Rents at City Place range from $850 to $1,195 per bedroom. Ann Arbor-based Arch Realty is handling the apartment leasing at City Place.
The fully furnished units range from 2,267 square feet to 2,665 square feet. They are decked out with flat-screen televisions, a surround sound media room, private bathrooms, laundry facilities, energy efficient appliances, wireless Internet, and personal refrigerators and microwaves. The TVs are synced with hallway security cameras.
"We're really trying to do a lot of things to provide a luxury lifestyle for the folks who want to live here," Helminski said.
The opening of City Place corresponds with the opening of Zaragon West on East William Street and Landmark on South University Avenue.
Residents started moving into the 14-story, 200-bed Zaragon West on Monday. The 14-story, 600-bed Landmark is wrapping up construction and plans to open by Sept. 1.
Helminski believes City Place is distinctive enough from those high-rises to continue to attract tenants — even with more housing projects in the pipeline for downtown.
"There's certainly the demand (in Ann Arbor)," he said. "I think the question is: at what price point? You're never going to know until the market gets saturated at those higher price points."
He added: "I think (City Place is) going to be well positioned in the market even when more supply comes online."
Related story: A glimpse at luxury student living inside downtown Ann Arbor's Zaragon West