Dexter Leader:

Hudson Mills Metropark golf course to reopen Monday after cleanup of tornado debris

Posted on Tue, Apr 3, 2012 : 10:09 a.m.
A portion of the Hudson Mills Metropark golf course is set to reopen April 9; three weeks after a tornado tore through Dexter and damaged the course.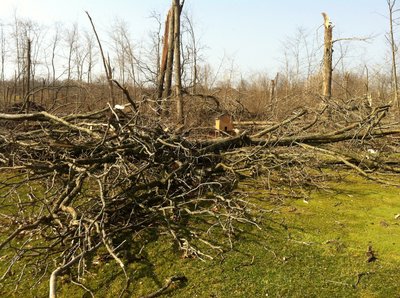 Photo courtesy of Hudson Mills Metropark
The tornado littered the golf course with debris, including toys, a lawnmower, pieces of roofing and high school papers. In some parts of the course, branches were stuck in the sod like spears thrust in the ground.
Because the most significant damage occurred in the area of holes 13 and 14, only the front nine holes of the course will reopen April 9, the Dexter Leader reports.
Metropark crews removed more than 150 downed trees from the front nine holes, including thousands of sticks and twigs.
Hudson Mills' main park, which is located across the street from the golf course on North Territorial Road, is open and did not sustain much damage from the tornado.
To read the full Dexter Leader report click here.