Posted on
Mon, Jun 24, 2013 : 5:57 a.m.
Great Lake Seafood Restaurant bankruptcy documents reveal $180,000 dispute
By Ben Freed
The parent company that owned Great Lake Chinese Seafood Restaurant, filed for Chapter 7 bankruptcy less than one month after the Pittsfield Township restaurant closed its doors.
Kin Kwok Yue, one of the shareholders of New Win System International Corp., is accused in the bankruptcy filing of taking distributions of as much as $180,000 from the restaurant's funds.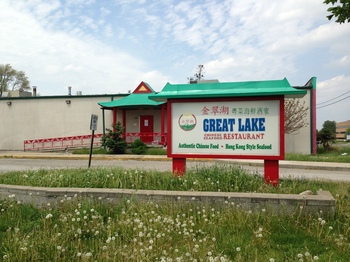 Ben Freed | AnnArbor.com
None of the company's shareholders listed in the court documents or attorney
Ryan Moldovan
of the
Moran Law Office
, who filed the paperwork on behalf of the company's resident agent
Kwok Cheung Tam
, could be reached for comment for this story.
The court documents appear to indicate a dispute between Yue and the company's four other shareholders related to the company's accounting books.
Yue, listed as a 21.667 percent stakeholder of the company, is in possession of all of the company's accounts and records, according to a filing.
The company's bank account is reported as containing $315 at the time of the filing.
According to the filing, "the amount Mr. Yue may have received is unclear due to his failure to turn over records to fellow shareholders."
According to court documents from the United States Bankruptcy Court for the Eastern District of Michigan, New Win System International Corp. claims that it now only has about $95,400 in assets to pay off over $230,000 in debts.
The company's assets primarily consist of a liquor license valued at $50,000 and equipment, utensils and cookware from the restaurant that have an estimated value of $45,100.
Priority claims on the restaurants debt are held by a number of employees who are owed back wages, including one person who is owed $6,077.90 for time worked in 2012 and 2013, and by the State of Michigan.
According to the bankruptcy filing, the company owes the state more than $75,600 in sales taxes.
Non-priority claims include nearly $50,000 owed on four credit cards and $3,000 to China Town Market in Madison Heights for supplies.
Additionally, Kin Cheung Yue, a 13.33 percent shareholder in the company, made a personal loan of $40,000 to the company that has not been repaid.
The Great Lake Chinese Seafood Restaurant operated for 19 years at Carpenter Road near Packard Road.
According to Pittsfield Township records, the restaurant's building at 2910 Carpenter Road was sold by Kwock Gee to New Win Property Management LLC in 2004 for $750,000. According to state documentation, Kwok Cheung Tam also is the registered agent for New Win Property Management.
The property's estimated market value is $781,200.
The next scheduled action for the case is a meeting of creditors to be held in Ann Arbor July 24.
Ben Freed covers business for AnnArbor.com. You can sign up here to receive Business Review updates every week. Get in touch with Ben at 734-623-2528 or email him at benfreed@annarbor.com. Follow him on twitter @BFreedinA2