For sale: Arby's building on Washtenaw in Ann Arbor listed amid reports it will close
Posted on Fri, Jul 20, 2012 : 2:58 p.m.
The east side Ann Arbor Arby's restaurant is listed for sale amid indications that the fast-food outlet soon will close.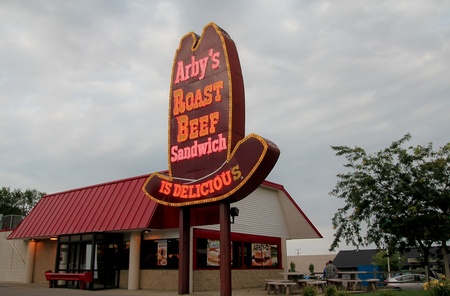 Kyle Mattson | AnnArbor.com
The building, located at 3021 Washtenaw Ave., is just east of Platt Road. It is near the Huron Village Shopping Center and across Washtenaw from the under-construction Arbor Hills Crossing retail center.
It's also home to a distinctive Arby's cowboy hat sign that's "grandfathered" into city zoning regulations.
Local commercial real estate brokers said the building is advertised as a "freestanding former Arby's." The listing price is $500,000.
The 1,825-square-foot building is owned by a multiple trusts, according to city assessor records. It's assessed at $261,300, giving it an estimated market value of about $510,000.
Local store officials were unable to be reached for comment.
The Arby's chain was acquired in 2011 by an affiliate of Roark Capital Group of Atlanta in a $430 million deal.
At the time, Arby's had — through both corporate and franchise stores — about 3,600 restaurants worldwide.
Jim Chaconas of Colliers International said he didn't have specific information about this store, but "we're seeing a lot of fast food chains starting to close under-performing stores."
Another recent fast food closing in Ann Arbor was the KFC — which also housed Long John Silvers - on West Stadium. It closed in late June.
Remaining Arby's restaurants in Washtenaw County include stores on Washtenaw in Ypsilanti Township, Jackson Road in Scio Township and on Baker Road just outside of Dexter.