Fiat, Food Gatherers site plans on Ann Arbor Planning Commission's agenda this week
Posted on Mon, Aug 20, 2012 : 5:56 a.m.
Ann Arbor City Planning Commission will consider three requests for business developments at its meeting Tuesday night, including a site plan for a new Fiat showroom on West Stadium Boulevard and expansion plans for Food Gatherers.
The Fiat proposal calls to demolish an existing 2,508-square-foot auto service building at 2095 W. Stadium Blvd., located on the Chrysler Jeep of Ann Arbor property.
Troy-based Suburban Collection acquired the dealership in June and renamed it Suburban Chrysler Jeep of Ann Arbor.
To replace the auto service building, Suburban Collection proposes constructing a one-story, 3,408-square-foot Fiat showroom building in its place.
Another item on the agenda is a request from Food Gatherers to construct additions totaling 12,646 square feet to the front and rear of the organization's building at 1 Carrot Way on the north side of Ann Arbor, north of Dhu Varren Road.
The project, which would total $2.5 million, includes room for an additional 22 parking spaces.
Most of the addition will accommodate expanded cold and freezer storage space, Food Gatherers CEO Eileen Spring told AnnArbor.com in July. The existing cold/freezer space allows for 32 pallets of storage. The addition would increase that to 264 pallets.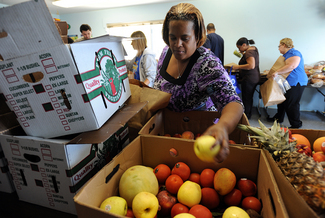 AnnArbor.com file photo
The final item on the agenda is revisions to a Planned Unit Development on Plymouth Road.
The developer of Plymouth Green Crossings, a partially built, approved mixed-use development at the northwest corner of Plymouth and Green roads, wants to go forward with adding more apartments, but no longer wants to build a restaurant there.
The Plymouth Green Crossings site plan was approved in 2006 for the construction of three mixed-use buildings, each including ground-floor retail and two upper floors of housing. Also included in the approved Planned Unit Development site plan was a free-standing bank, a free-standing restaurant and garages for the apartments.
The bank, two-mixed use buildings and the garages have been constructed, but the 5,900-square-foot restaurant and the third mixed-use building haven't been built.
Plymouth Green Crossings LLC is now requesting permission to amend the approved PUD to remove the restaurant from the plans, allow additional restaurant uses in the Phase 1 free-standing buildings and revise the development program for future, Phase 2 building to delete ground floor retail, office or restaurant and replace with flexible use space and/or enclosed parking.
Read more about those plans here.
City planning officials are recommending approval of the three requests. After a Planning Commission public hearing and vote, the plans will go to Ann Arbor City Council for approval.