Federal Reserve's Charles Evans in Ann Arbor: U.S. economy 'simply not resilient enough'
Posted on Tue, Sep 18, 2012 : 12:40 p.m.
Federal Reserve Bank of Chicago President and CEO Charles Evans has one word for the U.S. economic recovery so far: Disappointing.
Evans — who spoke to a group of about 300 people at Barton Hills Country Club on Tuesday at a breakfast hosted by Bank of Ann Arbor — said the U.S. economy is "simply not resilient enough" as he emphasized three big risk factors the country faces in its recovery.
The speech comes days after the central bank unveiled its new stimulus plan to buy billions of dollars in mortgage-backed securities until the outlook for jobs improves.
"Last week, the (Federal Open Market Committee) provided a more accommodative monetary policy that can help us achieve such resilience," Evans said on Tuesday. "I strongly supported the Committee's policy actions."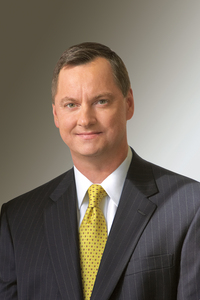 Courtesy photo
Evans - who described himself as an optimist - pointed to "disappointing" economic factors, such as the U.S. unemployment rate that has been hovering around 8 percent, as a reason to support further monetary stimulus.
"I think we can do better than this gloomy outlook," he said. "That is why action is important."
As Evans looks toward improving the national economy, he highlighted three risk factors the U.S. faces: a slowing global economy, the European crisis and the U.S. fiscal cliff.
"Under current law, tax and spending provisions enacted in various stimulus packages dating as far back as 2001 are scheduled to expire on January 1, 2013," Evans said.
"Such fiscal contraction would be a serious threat to our fragile recovery," he continued.
He said Europe's debt crisis could have "significant adverse effects on (U.S.) growth" and its financial markets.
"And just the uncertainty over the downside scenarios is likely already putting a damper on investment and spending decisions in the U.S," he said.
In a media briefing after the breakfast, Evans projected that in response to the new stimulus program, the U.S. unemployment rate could fall below 7 percent by the end of 2014.
In Washtenaw County, the unemployment rate is 5.5 percent, according the U.S. Bureau of Labor Statistics. The county's jobless rates have declined each consecutive year since 2009.
"I think the Midwest is doing pretty well…you know, the automotive sector obviously has come back very well from a very, very difficult time," Evans said.
He acknowledged that Ann Arbor is a U.S. city that is "not as susceptible to the national headwinds that are plaguing so much of the rest of the country."
"I know in Ann Arbor, you've got the strong university presence, you've the hospitals, which are also quite vibrant, and you've got the better parts of the improvement in the auto sector, which can also increase activity and support further business activity around the entire area," he said.
He added: "It makes sense that the fundamentals (in Ann Arbor) are quite good."