Chelsea Update:

Family Farm & Home opens in former Pamida store in Chelsea

Posted on Thu, Aug 2, 2012 : 4:53 p.m.
Family Farm & Home opened Wednesday in the Chelsea Shopping Center, Chelsea Update reported.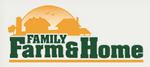 The store is located on
M-52
south of downtown Chelsea in the
former Pamida store
. That discount chain store closed its doors on Dec. 31, 2010, after opening there in 1993. The Pamida reopened in fall 2008 after a fire damaged the mall — and about $1 million in inventory — about five months earlier.
Family Farm is Michigan-based company, and the Chelsea store marks its 23rd location, according to the Update story.
The store features farm animal and pet supplies, fencing, bales of hay, tools, buckets and more, the report said.