DreamMaker Bath & Kitchen quadruples space in move to East Stadium Boulevard
Posted on Sat, May 19, 2012 : 5:56 a.m.
DreamMaker Bath & Kitchen recently quadrupled its showroom space and plans to hire additional employees after moving to East Stadium Boulevard in Ann Arbor.
The full-service remodeling company — which first opened a 1,900-square-foot showroom on South Industrial Highway in 2004 — recently relocated to an 8,000-square-foot space at 2333 E. Stadium Blvd., located across the street from Trader Joe's.
The reason: "We were capped at what we could handle for sales out of that office and didn't have enough room to display the variety of products available for remodeling options these days," said Bob Ender, one of the business' owners.
Texas-based DreamMaker has 45 U.S. franchises, including three in Michigan. Along with the physical showrooms, the company handles design and remodeling services.
The building on East Stadium, which is registered to Ridha Nooraldeen Trust, was formerly occupied by King's Keyboard and also once housed a restaurant.
Ender said the new building location was attractive because of the retail display space, warehouse space and truck accessibility.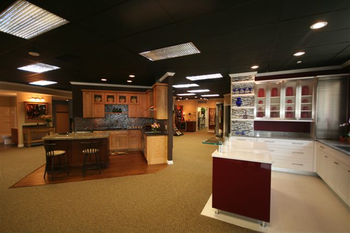 Photo courtesy of DreamMaker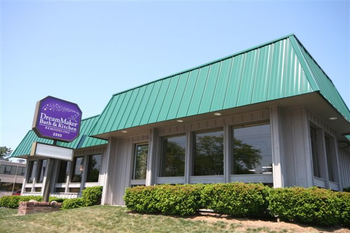 Photo courtesy of DreamMaker
"There are very few of these buildings available in Ann Arbor," he said. "We wanted to stay in town and kind of on the main thoroughfares with more visibility."
The new Ann Arbor space showcases product availability with various full kitchen, living room and bathroom displays. Ender said the goal is to showcase products for a range of budgets.
"People really want to visualize products," he explained. "We also do (three-dimensional) renderings. It's really important to be able to touch and feel the products."
Nine employees work at the new location and Ender said there are plans to hire an additional four this year — signifying what Ender described as a strengthening remodeling market.
Aside from 2008 and 2009 when sales remained flat for the business, Ender said the company has experienced double-digit sales increases in the past few years.
This year, he said he expects another 10 to 15 percent growth over 2011.
"We've been doing very well," he said. "Spring is always strong, and once the weather breaks in Michigan, we see more people coming in."
Ender owns Ann Arbor's DreamMaker Bath & Kitchen with his wife, Jennifer, and Lee and Brenda Willwerth.