paparazzi:

Dexter Wellness Center officially breaks ground

Posted on Thu, Sep 20, 2012 : 5:09 a.m.
After years of planning and development, officials broke ground Aug. 24 on the more than 48,000-square-foot Dexter Wellness Center.
photos courtesy of CAWF
The Dexter community celebrated the project with the official groundbreaking ceremony. The event was open to the public and was attended by members of the Dexter Wellness Coalition, village officials, board members of the Chelsea-Area Wellness Foundation and local business owners. Also represented were seniors from the Dexter High School Women's Basketball team and the Dexter-based Morning Star Child Care summer day campers.
Steve Brouwer, president of A.R. Brouwer Co., Amy Heydlauff, executive director of CAWF, and Shawn Keough, president of the Village of Dexter, each said a few words expressing enthusiasm for the project.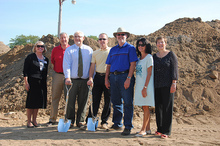 Brouwer and Jeff Hardcastle, chair of the CAWF board, used shovels to ceremonially break ground for the job site, celebrating the official start of the project. The center is expected to open by summer 2013.
Sign up for the weekly Business Review email newsletter here.