Dexter couple brings 'Urban Legend' Bloody Mary mix to market in Michigan and hopes to expand
Posted on Sat, Sep 22, 2012 : 5:58 a.m.
The entrepreneurial spirit is strong these days in Southeast Michigan, and it is not restricted to high tech companies or Internet startups.
Steve Brancheau and his wife Kristin had been making their own unique Bloody Mary mix for years when Steve decided to sign up for a class at the Chamber of Commerce in Howell that focused on bringing new concepts to market. Now, the couple is marketing Urban Legend Bloody Mary mix across the region and the country.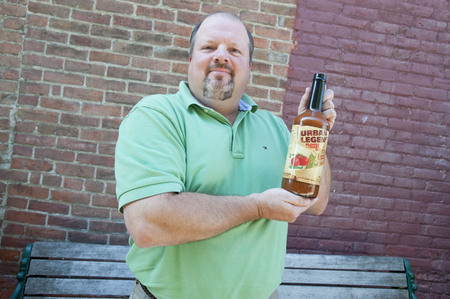 Courtney Sacco I AnnArbor.com
"They helped with all phases of the business," he said. "What you should look at in terms of financing, what to do in terms of marketing, how to contact individuals who might be interested, really everything."
Once he graduated the class in 2010, Brancheau began to look for bottlers who would be able to produce his product. After spending six months with one bottler who eventually refused to sign a non-disclosure agreement, he settled on Elena's, a small family-owned bottler in Auburn Hills that was able to meet his demands on taste and ingredients.
Elena's produced the first 250-gallon batch that has been distributed by the pair across the region and has attracted the attention of local and regional distributors as well as interest from further afield.
"We have an interested distributor in Canada that's contacted us," Brancheau said.
"They distribute to 100 liquor stores in the Alberta area and he wants to do a sample batch. We've already sent him some bottles and he said they have nothing like it in Canada."
Branchaeu said the market for mixers, much like the market for spirits and liquors, is distributor-driven. Before a distributor agrees to take on a new product, it first has to go through an approval process.
"They want to see what the shelf presence looks like, they want to know what the cost is," Branchaeu said.
"But most importantly they want to know how does it taste. Are they going to be able to move this product."
The couple is currently talking to multiple local and national distributors, including Whole Foods. Branchaeu said even without a distributor signed on, he's been able to sell the mix himself in Southeast Michigan. His "other" job is working in sales for medical valve manufacturer Asco Numatics so this part came naturally to him. When he starts rolling with his sales pitch, he knows what he's doing.
"One of the great things about being in Michigan is that people here strive to support other Michigan companies," he said.
"We made sure to put the 'Made in Michigan' label on our bottles so that when we go into local places in Chelsea, Dexter, or Brighton we say 'we're a local couple, we've launched this new mix. It's going to save you time, it's going to save you money, and it's going to promote consistency in your drinks. The perfect Bloody Mary is as simple as shake and pour, no need for more.'"
The Brancheaus have invested about $25,000 of their own money into the company and expect to start seeing return on their investment within the next three or four months. They already have ordered their second batch from the bottler, and anticipate signing with large distributors within the next couple of weeks.
Kristin Brancheau handles more of the "business side" of the business, what she calls the more boring details.
"But it's the boring details that will keep us out of jail," she said.
Not that they are at any risk of jail time, but the couple has made sure to stay on the right side of the law at every step of the process. They have worked with a legal team to trademark their name and tagline, as well as to ensure that their new Canadian labels comply with nutritional disclosure and bi-lingual requirements (labels in Canada must include French translations).
So if you see the Urban Legend brand popping up in bars and liquor stores, don't be surprised. The company has even paired with the local Ugly Dog Distillery to market a specialty drink with their bacon-flavored vodka. It's called the BLT.