CEO Podcasts: Conversations on Economic Opportunity, Jeff Freyer
Posted on Wed, May 2, 2012 : 4:16 p.m.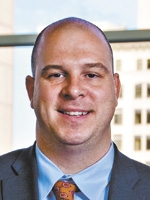 Ann Arbor SPARK CEO Podcasts: Conversations on Economic Opportunity capture the flavor of my one-on-one conversations with over one hundred key economic leaders in the region, including private sector CEOs, elected and appointed public sector leaders, and the executive leadership of key non-profit and academic institutions. The podcast series is designed to not only highlight that expertise, but also make it available to others who could benefit from the wisdom those business leaders can share.
The Ann Arbor economy is driven in part by the amazing business infrastructure in the area. Infrastructure that just 20 years ago was considered a luxury is now a requisite for businesses at all levels. Comcast helps to make those services available to everyone.
Jeff Freyer is the vice president of business services for Comcast Business Class Heartland Region, based in Plymouth, Mich. In this role, he is the senior leader responsible for developing, facilitating and implementing strategies aimed at growing Comcast business services across Indiana, Michigan, Arkansas and Central Kentucky. Freyer currently serves on the board of directors for Midwest Technology Leaders in Michigan and TechPoint in Indiana, and was named one of Crain's Detroit Business 2011 "40 Under 40". He has more than 15 years of experience in the telecommunications and cable sector.
In my conversation with Freyer, we discuss the growth of the Ann Arbor business world, from the explosion of start-ups to the investment and growth of large Fortune 500 companies in the region. Our discussion touches on the importance of regional collaboration and ensuring Michigan's continued economic growth through community outreach and business development programs.
Check out more CEO Podcasts: Conversations on Economic Opportunity with Ann Arbor SPARK CEO Paul Krutko on the Ann Arbor SPARK website!