California investor sees promise in Ypsilanti real estate market, purchases apartment complex
Posted on Fri, Jul 20, 2012 : 5:56 a.m.
Is the Ypsilanti Township area one of the best real estate markets in the country?
According to a California real estate investment company, the answer is yes.
San Diego-based Coseo Properties Inc. recently bought the Country Meadows Apartments for $5.9 million with the intentions of upgrading and flipping the complex in around five years.
In a news release, the company called Ypsilanti "currently one of the more attractive secondary markets for real estate investment in the nation."
Country Meadows is the fifth complex Coseo has bought in metro Detroit in the past six months, and the company's vice president, Calvin Coseo, said it intends to buy five to 10 more buildings in the region over the next 18 months. Those buildings will be fixed and flipped as well, he said.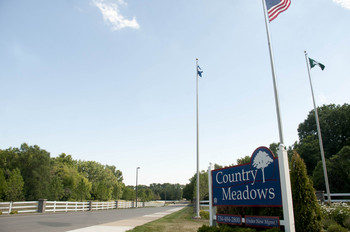 Tom Perkins | For AnnArbor.com
"Our goal is to scoop anything that makes sense like this over the next year, next two years, then sell them in year five," Coseo said.
Coseo Properties also owns 700 homes in metro Detroit and has converted 131 into rental units, but Coseo said it makes far more sense for the company to own 200 units in one central complex.
Country Meadows was formerly Tuscan Creek Apartments, and is located on Congress Street just east of Hewitt Road. The property was sold to Coseo by Erie Investments, which recently purchased River's Edge Apartments off LeForge Road near Eastern Michigan University's campus with the intention of upgrading the complex and rebranding it as student housing.
The complex came at a bargain because the seller was distressed and over-leveraged, Coseo said.
Erie had invested around $3 million in fixing up Country Meadows and there is very little in the way of deferred maintenance. Among improvements were the installation of new windows, siding, roofs, entry doors, lighting, hallway carpeting and air conditioning units. Improvements also included exterior fencing, street paving, lighting, storm sewers and landscaping.
As further improvements are made, the price of rent would go from an average of around 70 cents a square foot to $1 a square foot, Coseo said.
Country Meadows was constructed in 1975 and is composed of eight three-story buildings on a 30-acre site. Units range in size from 620-square-foot one-bedroom apartments to 750-square-foot two-bedroom apartments.
The complex's occupancy rate is artificially high because Erie was preparing to sell the complex, Coseo said, so many of the rent prices are significantly lower than what they should be. Coseo said tenants will be asked to reapply when their leases expire and rent prices will slowly come in line with the market average.
"Slowly but surely we will up the tenant profile," Coseo said.
He added that the company has a strong management team and can reduce the number of employees working at the property, which will find more savings on the complex.
According to a company news release, Coseo Properties has acquired, rehabilitated, leased and successfully sold nearly 3,000 single-family homes in the past three years. It is continuing to shift its focus toward apartment buildings.
Coseo said Michigan, where several generations of Coeos previously resided, hit its low and is starting to rebound. He said he expects the region's real estate market to continue to improve in the coming years, which is why the company plans to sell the property in five years.
"Five years won't be the height of the highs, but it will be a good time to get out," he said. "Hopefully we'll have a good product, all sexy, ready to go and pretty easy to sell."