Bank of Ann Arbor unveils new non-local banker character in billboard and TV advertisements
Posted on Sat, Sep 15, 2012 : 5:57 a.m.
The Bank of Ann Arbor is taking its nationally-recognized "non-local banker" campaign to the next level.
With the help of a famous animating team, they are personifying the "banker" referred to in billboards and radio advertisements that have been seen and heard around the county for the last three years. In order to create buzz around the new "character," the bank has put his face on billboards around town with nothing but their signature bright green color in the background.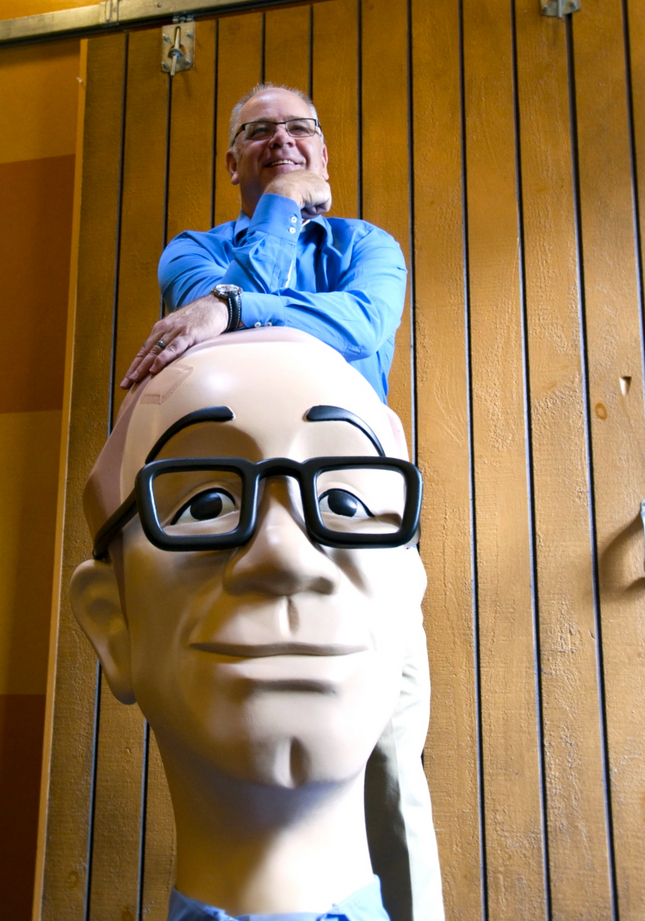 Photo Courtesy Ernie Perich
The billboard "ads" have created some confusion, and sparked speculation on twitter,
facebook
, and
local blogs
. While most of Ann Arbor is now familiar with the idea of a non-local banker who allegedly thinks that Community High is when we all feel really good and that Lloyd Carr is an automobile with excellent gas mileage, no one knew what he looked like.
Advertising executive Ernie Perich of Perich Advertising + Design said the confusion even led one person to call and complain that he thought the head was poking fun at former Republican presidential candidate Ron Paul, but the point of using an animated figure was to avoid making fun of any one particular person.
"We just wanted your classic banker looking guy that if you lined up 100 bankers in a row and take the average of all of them he would pop out," he said.
The billboards will be changed during the weekend to feature the animated banker along with the now-familiar non-local banker quotes. Perich also has been walking on Main Street wearing a "mascot-style" head of the character. He said people have been approaching him to take pictures with the character without knowing or asking what it represents.
J. J. Sedelmaier Productions, best known for their animation work on Saturday Night Live and MTV's Beavis and Butthead, designed the non-local banker who will appear on advertisements that will be aired locally and online.
Bank of Ann Arbor president Tim Marshall said the character is the next evolution of an advertising campaign that has helped the bank grow tremendously over the last three years. Since 2010, Bank of Ann Arbor has seen their total assets grow by nearly 50 percent from $547 million to $802 million as they've made more loans, had more deposits, and grown their capital.
"It's all part of what makes us great," he said. "The financial strength of the bank, branding, the people, and the commitment to the community. All those factor in."
Marshall also sees the advertising campaign as dovetailing with the banks strengths. He said following the economic downturn in 2008, there has been a trend across the country towards banking with smaller banks.
"People are embracing a more localized approach to banking," he said. "Especially banks that didn't participate in subprime lending or sophisticated swaps."
In 2010, the branding campaign that included the "non-local banker" also included a broader branding effort that used a bright green color to identify the bank in marketing materials and other promotions such as the Sonic Lunch concert series. While wearing green is normally frowned upon in "Maize and Blue" Ann Arbor, Perich said being recognized with a specific color or shade can be extremely beneficial for a company.
"It worked for Tiffany's, it works for UPS, and when you see that Coca-Cola red, you know that color," he said.
"Everyone does blue, everyone does burgundy, so it was an interesting and fun decision to go with the bright green."
Vice president and marketing manager Rhonda Foxworth said employees had embraced the green and taken to wearing clothes that matched the distinctive hue.
"I even had green toes for a little while during the summer," she said.
Marshall also has embraced the branding efforts, even wearing green pants around the office. He said the campaign has become something they all enjoy being a part of.
"To be able to make people laugh today is good," he said. "I don't know a lot of ad campaigns where the purpose is to make people laugh, to put a smile on their face."
Here's one of BOAA's new TV ads: