Ann Arbor small business, Morty's Secret Garden, sees growth despite a dry, hot summer
Posted on Sat, Sep 8, 2012 : 5:58 a.m.
Angela Smith for AnnArbor.com

"Paradise out of a parking lot" is exactly what owner John Arms hopes to offer to his clients. Morty's, at 1443 Jorn Court, has been nestled into a parking lot alongside Morgan and York for 3 years now, and "has been growing every year," according to Arms.

Customers can walk through the fenced-in courtyard, and discover both common and unique landscape plants and offerings.

This year the business was able to expand from an exterior plant and landscape supply yard to a brick and mortar establishment, taking over the former Dog-O-Mat space on Packard Road. Dog-O-Mat has moved to the west side, and Arms is hoping to use the newly acquired space to move a piece of his business' focus to interior plants.

Morty's has taken on a florist, Joanna Kokkales, for the fall in hopes to advance its selection of house plants and arrangements. They also plan to hire an additional landscaper, if they find "someone with the right skill set," rounding out their staff list to four people.

Arms said the business has seen growth despite what has been a difficult season for landscape professionals.

"Summer's been rough," Arms openly admits when asked. Arms said his business roughly services 65 residential landscapes, and the same number of commercial clients. He's been offering perks — such as mulch deliveries — to seasonal contract holders that have not needed the lawn upkeep due to hot, dry conditions.

Arms said his business is split 50-50 between customers who rely on landscape service and clients who come in to shop. "Most of the clientele are true gardeners — they know what they want, want to know their options, the problems — I enjoy the education part of it."

The experience at Morty's should feel different from what you would expect at a large retailer, according to Arms. "If you buy a tree we're going to play 50 questions," he explains.

He said he asks questions about form, function, color, and lifestyle in order to suggest a good match for the client's needs. He said he enjoys the hunt for "oddball plants" and plans to offer more native and edible plants next spring. "Visiting customers and talking is my favorite part of the job," Arms said.

"Though I've been doing this long enough to see how things have changed. I have a 77-year-old client who texts me when she has (landscape) concerns." Arms says he's happy to come back up to Morty's at 8 p.m. if a client calls and wants to meet there with a question or two.

Arms, who is an Ann Arbor-native, has been working in the field since he graduated from Huron High School. "I've been in the green industry since high school. I was a cutter and did lawn maintenance first, then when I realized this was a career path for me, I got my horticulture degree from OCC."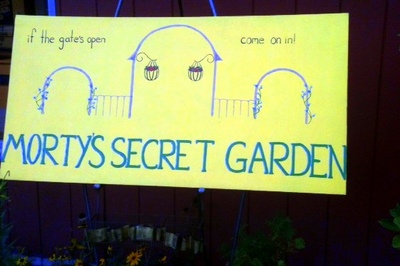 Angela Smith for AnnArbor.com
"The name 'Morty's' was sort of a nickname when things were getting started," according to Arms. The family liked the Italian flair, and thought it was cute, also while paying tribute to his wife's maiden name, Mortellaro, and his father-in-law, who was a strong proponent for Arms when the business was just starting. "People ask for Morty and I say, 'It will be a one-sided conversation."
Arms said many businesses, customers, and Ann Arbor townies know him for his pet lamb, Tails, who Arms nursed in to health after being born to a sheep that was part of his mobile petting farm in 2010. The lamb, who would accompany Arms everywhere he went, has been "adopted by a family who is raising him in a restored farmhouse in New York."
Arms has lots to say about what makes Morty's unique. Though it's more work, he likes to buy his plants from Michigan suppliers.
"Though it would be easy to get them from out of state, Michigan needs the help," says Arms, who added that supporting local business is important to him.
Morty's offers a mix of mostly perennial shrubs, plants, organics, and "non-traditionals." Morty's has hopes to offer pottery from local artists, and plans to begin local Birding Expeditions in the fall."
Morty's Secret Garden is open 9 a.m. to 4 p.m. Monday through Saturday, 10 a.m. to 4 p.m. on Sundays.