paparazzi:

Ann Arbor resident recipient of Beaumont Health System's Outstanding Physician and Humanitarian Award

Posted on Thu, Aug 23, 2012 : 5:12 a.m.
Beaumont Health System recently announced the winners of the 2012 Outstanding Doctors' Awards, and Ann Arbor resident Dr. Michael Pieh was among the recipients.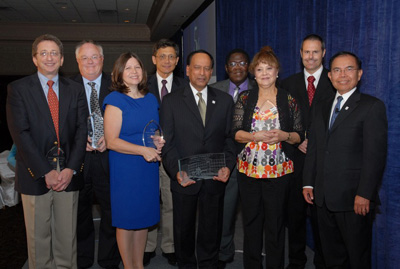 photos courtesy of Beaumont Health System
Pieh received an award in the category of "Outstanding Physician and Humanitarian." Pieh serves as president of the Taia River Union, which provides food, medications and other necessities to the needy of his home country, Sierra Leone. Since 2006, his group has treated more than 2,000 people on their trips to Sierra Leone. He also helps operate a year-round clinic in Freetown to help provide continuing care to those in need.
Since 2010, Dr. Pieh has been the program director of house physicians at Beaumont in Grosse Pointe. He focused on public health and preventive care at Tulane University so he could return to developing countries and educate patients about diabetes and hypertension before they became life-threatening issues. He is a resident of Ann Arbor.
A video interview with Dr. Pieh is is available on YouTube.
Sign up for the weekly Business Review email newsletter here.