Ann Arbor Carriage offers horse-drawn carriage rides downtown when the weather is right
Posted on Sat, Apr 9, 2011 : 5:48 a.m.
If you thought you saw a horse and carriage on the streets of Ann Arbor on St. Patrick's Day, you weren't hallucinating.
Ann Arbor Carriage owner Denise Kubin noticed that her horses were enjoying the bout of nice weather but were getting bored.
"We had to do something," she said.
One of Ann Arbor Carriage's Percheron draft horses, Glen, was the most likely to get mischievous, she said, and so won himself a trip downtown to offer rides to the holiday revelers. Carriage rides were available for about $20 per session.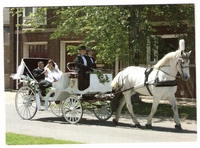 Courtesy of Ann Arbor Carriage
"It was more for fun, we didn't really make a profit," Kubin said.
But that won't stop her from planning to send the horses down for additional spring tours. Kubin told AnnArbor.com that the season is just gearing up, and that Ann Arbor Carriage offers packages all over the Detroit metro area. The company started more than 10 years ago, and has three horses — Glen, Sonya and Mr. Potter — that take turns pulling the carriage.
"Generally we do three or four (events) a weekend. Mostly weddings and parades, but also 16th birthday parties and 'princess parties,' too," she said.
"We used to be in Ann Arbor all the time a few years back… offering tours from the Gandy Dancer, the Earle, Banditos, Union Hall," she said.
Kubin said the company has already secured the appropriate city permits to offer rides this season.
What's the trickiest part of negotiating downtown traffic with a horse and carriage?
"The lights!" she said. "Each street (in Ann Arbor) has its own personality ... Everyone wants to come up and see the horses, or holler from the sidelines — really it's just a lot of fun."
Ann Arbor Carriage plans to be back downtown "on Friday nights if the weather is right," Kubin said.
The company usually stages the horses at the corner of Main and Washington streets. A carriage can seat four people plus kids.
Private tours are also available for advanced bookings at $125 per session.
"It's about an hour, but could go longer if we're all having a good time," she said.