150-plus properties up for bid on Washtenaw County tax foreclosure auction block
Posted on Tue, Jul 17, 2012 : 5:56 a.m.
More than 150 parcels will be up for auction when Washtenaw County's Treasurer's Office tax foreclosure auction gets underway July 17.
A variety of properties are represented, including vacant lots, commercial buildings and residential homes.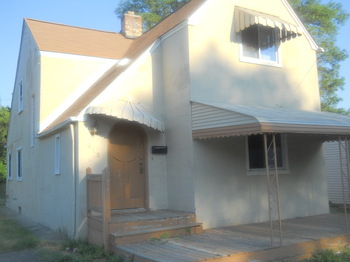 Katrease Stafford | AnnArbor.com
Washtenaw County Treasurer Catherine McClary said the number of properties up for bid is down from last year as the economy continues to improve.
The auction is available for viewing on www.Auctions.com/Washtenaw.
Among the bargains McClary highlighted is a home at 901 Pine Tree Drive, in Ann Arbor. It has a minimum bid listed for around $21,000, and McClary said the assessed value is around $200,000. McClary said crews were working throughout the day Monday to clear the house of any junk and debris, as well as work on its landscaping.
Four parcels holding the former Greek church at 401 N. Main St., in downtown Ann Arbor also are listed on the auction site, but McClary said that property will not be available until a Sept. 6 auction. It currently has a minimum bid of $254,176 and an assessed value of just more than $2 million.
In Ypsilanti Township, there are two mobile home parks for sale. A Washtenaw County Circuit Court judge just ordered all the trailers on the property to be demolished and cleared, and the township has plans to complete those projects within the next week.
McClary said the township intends to rezone properties to commercial, meaning they will be of greater value to a potential buyer and the properties will be "pristine".
One property is located at 117 South Harris Road, in Ypsilanti.. Its assessed value is $265,600 and its minimum bid, including the township's cost of clearing it, will be listed around $145,000.
The other property is located at 2590 E. Michigan Ave. It has an assessed value of $393,000 and its starting bid, including the township's cost of cleanup, will be around $162,000.
Bids for homes in Ypsilanti and Ypsilanti Township start for as low as $6,000, such as one at 1670 Holmes Road which has a starting bid of $6,476. Bids for vacant parcels begin around $600.
The former owners of the properties up for auction failed to pay their 2009 taxes, which includes property, income, federal and state taxes. All liens are extinguished and buyers are to pay the July 1, 2012 and December 1, 2012 taxes.
Prospective bidders had to register before the auction start at 10 a.m. They can drive around and inspect the properties' exteriors but may not enter any buildings or homes.
The number of properties is down considerably from last year's auction, McClary said, and she added that a high number of properties are those that banks have walked away from.
"The economy is improving and the foreclosure crisis is over — (but) not for everyone; there still are foreclosures, and it's going to take us as long to get out as it did to get in," she said, adding that delinquent taxes are down for all divisions of government.